When two Allegheny County Jail inmates died on the same day this past May, it was the tipping point of the relationship between county officials and Corizon Health, the for-profit company that provided health care for inmates. The next day, Allegheny County Executive Rich Fitzgerald announced he would not renew the company's contract that was set to expire in September.
In this light, it appears that the county is a swift and responsive leader — identifying a problem and taking care of business. However, Tennessee-based Corizon Health has had a slew of problems since taking over inmate health services in September 2013. Eleven people have died during Corizon's tenure. According to a December 2014 audit of the jail, inmates are typically only held in the jail for an average of 58 days.
Some people are convinced that the county should have acted sooner and done much more to ensure the safety of the inmates. People like Tomi Lynn Harris.
Harris' son, Frank Smart, died in January 2015 when she says jail medical staff refused to give her son his seizure medicine. And even with the termination of Corizon, she's not confident that the problems with the jail's medical treatment will be solved by their departure. "How can I say that, since three people died since my son died in January?" she asks.
Harris will take part in a protest in front of the County Courthouse on Sept. 1, the day after Corizon leaves, and the first day the county is in charge of health care. The Allegheny County Jail Health Justice Project is organizing the protest and is demanding that Warden Orlando Harper be fired.
"We want to show that we are still watching the county," says Julia Johnson of the Justice Project. "We demand accountability. The county claims ignorance, but the people in charge are not doing their jobs and violating people's human rights."
In a June 12 press release Fitzgerald was confident that when the county, along with medical partners from the Allegheny Health Network (AHN), takes over as the primary health-care provider they "will be able to provide the high-quality medical and mental health services that the inmates need moving forward."
When City Paper asked what specific plans the county has to improve medical conditions at the jail, Allegheny County Communications Director Amie Downs responded via email, that "until we have an agreement finalized, we're not providing anything further than what we have already put out publicly. … Our time is being spent on finalizing and working on those details."
Allegheny County Controller Chelsa Wagner, like those organizing the protest, also believes some blame must be placed on county officials.
"I think there is a lot of culpability within the county," says Wagner. "The firing of Corizon was more of a show to say, 'Oh look, we saw something wrong and we fixed it.'"
According to the controller's 2014 audit, Wagner and her staff found 14 deficiencies. The first finding stated "it appears that the county did not perceive a need to engage in rigorous monitoring of [the] contract." Additionally, the required monitoring report on Corizon from the county only appeared by mid-January 2014, more than four months after the contract started.
In response, the county created a health-care-contract monitor position. However, the controller's office says that Nora Gillespie, who was hired for this position, did not start until late April 2015. Again, more than four months after the initial requisition.
Furthermore, it is unclear if Gillespie actually accomplished any monitoring. Bret Grote, legal director of Abolitionist Law Center, requested a right-to-know request of invoices of medications that were dispensed at the jail. The county responded saying it did not have any such records. That raises questions whether Corizon failed to provide the county with adequate medical records, which would have been a violation of its contract.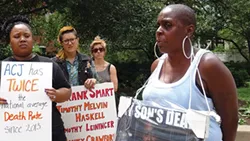 And if the county knew Corizon was in violation, Wagner says there was at least one provision within its contract that provided for penalties to be enforced.
"It was abundantly clear in the audit that those penalties never occurred. And this did not come from subjective stories. It was found through objective data," says Wagner. "We believe that the county should still be imposing that penalty. They have not done so to my knowledge."
There is at least another failing that the county can't blame solely on Corizon. The health-care company was supposed to install and implement an Electronic Medical Record (EMR) system by September 2014. Payments were to be split by the county and Corizon, with five installments of $87,000 paid by the county. Wagner's office says they have no evidence that the payment for the system was ever made.
Corizon Health issued this response to City Paper via email: "We had initiated implementation of the electronic medical records system; however it is not complete at this time and will not be complete before the contract is terminated."
Twelve of the 14 findings in Wagner's audit specifically point out deficiencies of the health-care company, such as not maintaining required staffing levels, not providing inmates with clinical care, and failing to reply to inmate grievances in a timely manner.
Compounding the failure of Corizon and the county, is that five inmates have died since the audit was released on Dec. 15, 2014.
"We are not in front of [the problems]," says Allegheny County Councilor Heather Heidelbaugh. "The county had information. How long did they know before acting?"
Heidelbaugh says council did not vote on the decision to end Corizon's contract, the decision to partner with AHN when the county becomes the provider, or even to end the previous provider's (Allegheny Correctional Health Services) contract back in 2012. Heidelbaugh says she understands that "the executive has the full ability to sign contracts" but wishes that the council could be more involved in the process.
Judge Joseph Williams, a member of the Jail Oversight Board, offers a slightly different account. Williams says that, since he joined the board this January, he was involved in talks with Fitzgerald about a transition away from Corizon.
"Corizon to me is almost like a McDonalds. They are all over, and they have a menu that is broad and not specific," says Williams. "We are not a franchise, we are Allegheny County. We have more room for flexibility and more degrees of freedom in our health care."
In March, the Jail Oversight Board did meet with county council members to discuss its role with the jail. According to meeting minutes, Williams said at that time that a decision would need to be made about the continuation of Corizon's contract in the "relatively near future."
But Johnson, of the Justice Project, thinks that the county did not react fast enough. There were two highly publicized deaths in less than 30 days between December 2014 to January, the same month that Williams says he spoke with Fitzgerald about ending the Corizon contract.
"It is so egregious," says Johnson. "The fact that the county did not step in immediately, and waited for more deaths and protests to happen to actually make some changes."
Williams says that the county was waiting to see if "things would get better" at the jail before making a decision. During that time, Williams says county officials were "pooling resources from around the region," such as local universities, to figure out how to better manage health care at the jail.
"I think we have turned the corner on it. I don't see it as a crisis like I did seven months ago," says Williams.
Johnson believes things won't really get better until the county focuses on accountability and it gets its priorities straight.
"We should not just be focused on the most expedient and cost-saving policies," says Johnson. "The reason that Corizon was brought in was to save half-a-million dollars. Their priority is saving money, not the human rights of the incarcerated."
Typically, money has been the main concern surrounding county jail health care. Heidelbaugh, who has served on the county council since 2011, says when the council does discuss health care at the jail, the discussion is usually about money. Heidelbaugh adds that when she has tried to discuss other issues at the jail, such as inmates not receiving medication, she was ignored.
Documentation backs up this complaint. When then-County Controller Mark Patrick Flaherty audited the former jail health-care provider, Allegheny Correctional Health Services in 2007, cost-cutting was the major component of all six findings. In fact, the audit even suggested ACHS investigate "the possibility of charging inmates a health-care service fee to control medical costs."
So when costs continued to rise, reaching a peak of $13 million in 2012, ACHS was dissolved and the county started its contract in 2013 with Corizon for $11.5 million for the first year.
Now, Corizon is out and the county is taking over as the main health-care provider with help from AHN. At the time this story went to press, the arrangements are still unknown.
Grote, of the Abolitionist Law Center, wishes there was more transparency surrounding the county jail. He says the county still doesn't have any of its policies online and it never shares any of them with the public: "We have no indication as of what they doing."