If you've never taken a closer look, you might think LARP (Live Action Role Playing) isn't much more than a hobby, an excuse to carry a sword and rock a surcoat. But these days, that world of immersive, in-person gameplay is a big business, with more than a dozen national organizations in the U.S. and robust online industries churning out weapons, costumes, armor and jewelry for players around the world. Some even make it a career.
After spending more than half his life immersed in LARP, Steven Myer finally went pro at 31. When he was 16, he started LARPing via the Knight Realms game (think: life as a Lord of the Rings extra) in New Jersey, and immediately got hooked. For the next 10 years, the game played a major role in his social life. He met hundreds of people, immersed himself in the community and spent as many free weekends as possible living as a character of his own making.
Today, Myer works full time operating two franchise LARP groups (one in Pittsburgh and another in Richmond, Va.) as part of the network of the national LARP organization Dystopia Rising. Unlike Knight Realms, Dystopia Rising focuses on post-apocalyptic scenarios involving zombies, monsters, rival communities and rebuilding society.
Myer doesn't get to run from zombies much anymore. As the owner, his role in gameplay is as a director, similar to a dungeon master in Dungeons and Dragons. He orchestrates the scenarios, oversees the game and handles the busy work of running a business. Building post-apocalyptic worlds takes a lot of paperwork.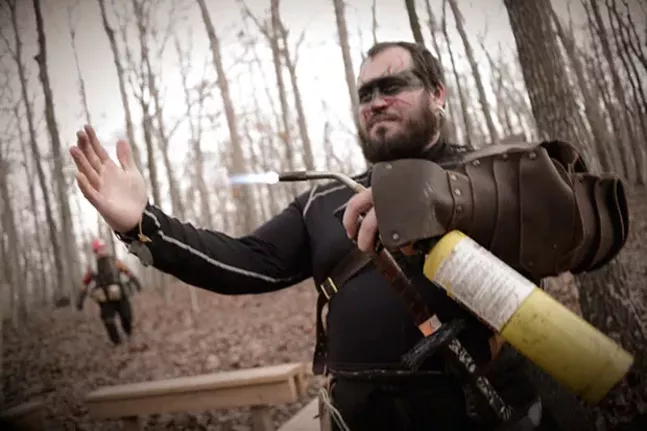 There are also marshals, who operate as umpires during gameplay. If there's a dispute over a fight (i.e., a character arguing that they were not hit) or an injury, the marshals are there to adjudicate the conflict or get the EMT. Players pretty much have free reign to do what they want with their personal characters throughout the weekend, but are required to contribute a four-hour shift as a zombie or monster.
Shift requirements may seem antithetical to open gameplay, but for many people immersed in LARP, the precision of the details and the rigidness of the rules are what make the experience so special. If you're paying for a weekend of post-apocalyptic role-playing and dressing the part, you want that commitment to be reflected in all details of the game.
"I think it's a good escape," says Janelle Hayes, chairman of the board of the Pittsburgh Roleplaying Organization (PRO). "It lets you get all of your aggression out. We consider [LARP to be] a really good alternative [for] people, rather than turning to drugs and alcohol. There's a lot of camaraderie, and everyone gets along really well."
Myer, too, thinks the success of LARP is due to the mix of escapism from the real world, and the opportunity to make friends as you get older.
"You need a break of that retail life," says Myer. "Come out and be a hero for a weekend. That has a lot of appeal to people."