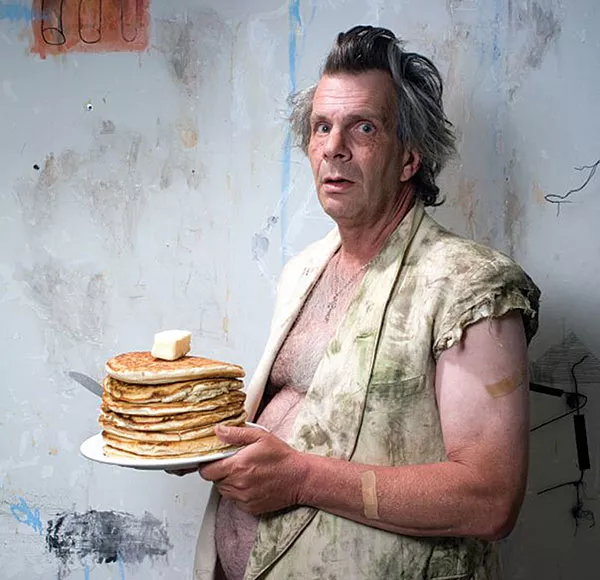 Victor Navarro, Jr., was more than just a fixture in Pittsburgh. He was like an "Ol' Faithful": a temperamental tourist attraction whose very force of nature inspired different responses.
Before the longtime Bloomfield character, who died June 30 at age 66, became a reliable feature of the landscape, he struggled with the world at large. Seasons of unpredictable behavior complicated the search for a comfortable place to loaf, a place where Victor wouldn't be written off as a moody element but, rather, enjoyed for all his peculiarities.
Already banned from a few diners by the time he could score a senior citizen's discount, this child of the '60s found his comfort blanket in Bloomfield. About a decade ago, he began posting up at the Crazy Mocha coffeeshop, on the corner of Liberty Avenue and Taylor Street, absorbing everyone's energies, and transmitting his own, for days on end.
Victor reveled in the foot traffic of a changing neighborhood; he drafted thoughts with fluid abandon, pulling ideas out of the air and simultaneously force-feeding his opinions back into the universe. Protruding from a beautiful haphazard of layers, Victor's small, peanut-shaped head poked from beneath an always curious haircut. He wore his gruff exterior like a turtle shell.
His frame was broad-shouldered, 6 feet tall though shrinking. According to Victor, his belly protruded on account of a baby dinosaur (named Kyle) gestating inside him. Below the equator, casual pants hovered well above his favorite leather slip-ons. Victor hand-tailored all of his trouser socks; he cut vertical slits in the sides to achieve a comfortable crew cut, despite creating sock flaps that hung like torn flags. His most iconic clothing item was a dirty gray duster jacket that was just the right fit (even if it was technically too big).
Victor never consumed much of anything beyond coffee and cigarettes, both of which you could hear in his gravelly, unmistakable voice. Raspy yet orotund, Victor's tone of voice was so inimitable that it beckoned friendly imitation from all his friends at the coffee shop.
During my years working at Dreaming Ant, the DVD-rental shop in the back of Crazy Mocha, I grew to understand Victor's antics beyond any sort of casual appreciation. Yes, he was a chain-smoking misanthrope, but his conversational approach was gentle, and usually quite journalistic in its effect.
Cigarettes represented an ongoing "favor economy" with Victor, and he had an elephant's memory when it came to his inventory. Victor had purchased cigarettes from every possible outlet in Bloomfield, so all the clerks knew him by name, by reputation, and by whichever flavor-of-the-week he was puffing at the time.
But it wasn't the smoking, and its culture of random conversation, that defined Victor as a people person. It was the literature: Victor had an inborn magnetism toward books of all kinds. He was a human lending library/giving tree that rarely ever asked for anything in return.
Before Victor even thought about reading each new book, he made sure to open it to the middle pages and, with the poise of a sommelier, sniff the inner spine. He tasted the vintage, cross-referencing its scent with those of libraries once wandered. Each title functioned like a token of kinship, passing through his hands with the purpose of connecting people to ideas, and also to each other.
Victor was a savant and a renaissance man: a poet, a painter, an exhibitionist, a musician, a novelist, a bull-shitter, an "expert" piano tuner, a muse, a philosopher, an old-school fighter, a doodler, a vulgarian, a confidante, a hopeless romantic, an atheist and a "holy smoker," born on the night before Christmas, among other things.
Victor had been through it all, and still had a sense of humor about his "non-viable" place in society. From his salad days growing up in Highland Park to his mid-life stints in homelessness and halfway houses, he'd always led a strangely dignified life, albeit on the fringes.
For nearly 10 years, I worked alongside a one-man peanut gallery who wasn't really an employee or a customer, but was more than both combined. Victor became a consummate symbol of Bloomfield. Customers who really knew Victor entrusted him with watching over their dogs, and sometimes even their children, while they went into the shop.
The guy was good with all life-forms, not to mention art forms. Victor crafted scores of subliminal paintings, recorded albums' worth of salacious songs, and wrote a few elegantly trippy novels. But it was his random musings that give the most telling glimpse into Victor's everyday experience at the coffee shop.
Upon paper scraps and old rolls of receipt paper, Victor would concoct a theoretical treatise entitled "On Levels," while simultaneously sketching cartoonish anatomies. Victor wrote his receipt scrolls like he was live-tweeting with a blue Sharpie, aiming his insouciance at all manner of familiar people, places and things. Toward the end of one of his more "unrated" tapestries, Victor wrote, "'Up yours,' if you read this asinine scroll." Such an author delights in reminding the audience that his work is a personal abstraction of art itself.
Victor lived his life with nary a care, but always an immense love, for the outside world. He left a lasting impression on everything around him, so the good feeling is more than mutual. Friends and family are sending their condolences to Victor's younger brother, Anthony Navarro, and donating to the Carnegie Library, in honor of a now-deceased, underground library named "Victor."
I find it hard to write about my friend in the past tense because he was always so present. Deep in the groan of every moment, Victor's undying spirit trained a spotlight on life's hidden absurdities, turning drama into comedy. He really knew how to make people smile.