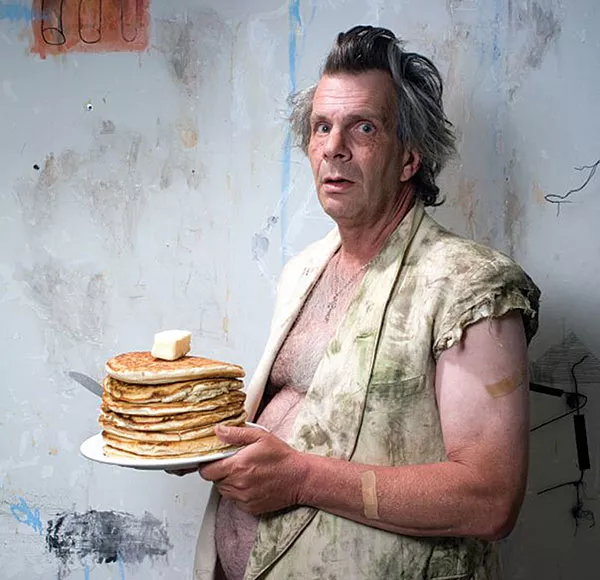 Victor Navarro, Jr., was more than just a fixture in Pittsburgh. He was like an "Ol' Faithful": a temperamental tourist attraction whose very force of nature inspired different responses.
Before the longtime Bloomfield character, who died June 30 at age 66, became a reliable feature of the landscape, he struggled with the world at large. Seasons of unpredictable behavior complicated the search for a comfortable place to loaf, a place where Victor wouldn't be written off as a moody element but, rather, enjoyed for all his peculiarities.
Already banned from a few diners by the time he could score a senior citizen's discount, this child of the '60s found his comfort blanket in Bloomfield. About a decade ago, he began posting up at the Crazy Mocha coffeeshop, on the corner of Liberty Avenue and Taylor Street, absorbing everyone's energies, and transmitting his own, for days on end.
Victor reveled in the foot traffic of a changing neighborhood; he drafted thoughts with fluid abandon, pulling ideas out of the air and simultaneously force-feeding his opinions back into the universe. Protruding from a beautiful haphazard of layers, Victor's small, peanut-shaped head poked from beneath an always curious haircut. He wore his gruff exterior like a turtle shell.
His frame was broad-shouldered, 6 feet tall though shrinking. According to Victor, his belly protruded on account of a baby dinosaur (named Kyle) gestating inside him. Below the equator, casual pants hovered well above his favorite leather slip-ons. Victor hand-tailored all of his trouser socks; he cut vertical slits in the sides to achieve a comfortable crew cut, despite creating sock flaps that hung like torn flags. His most iconic clothing item was a dirty gray duster jacket that was just the right fit (even if it was technically too big).
Victor never consumed much of anything beyond coffee and cigarettes, both of which you could hear in his gravelly, unmistakable voice. Raspy yet orotund, Victor's tone of voice was so inimitable that it beckoned friendly imitation from all his friends at the coffee shop.
During my years working at Dreaming Ant, the DVD-rental shop in the back of Crazy Mocha, I grew to understand Victor's antics beyond any sort of casual appreciation. Yes, he was a chain-smoking misanthrope, but his conversational approach was gentle, and usually quite journalistic in its effect.
Cigarettes represented an ongoing "favor economy" with Victor, and he had an elephant's memory when it came to his inventory. Victor had purchased cigarettes from every possible outlet in Bloomfield, so all the clerks knew him by name, by reputation, and by whichever flavor-of-the-week he was puffing at the time.