As the centerpiece of his solo exhibition, Art After White People, at The Santa Monica Museum of Art several years ago, the artist William Pope.L installed a grove of palm trees all spray-painted white. According to the museum's director, the expectation was that the paint would kill the trees. But it didn't.
Internationally known Chinese artist Jennifer Wen Ma has had a similar experience with the live plants and trees that she covers in black ink. Rather than wither and die, they find ways to sprout and grow. Life perseveres.
For the second commission of the Market Square Public Art Program, Ma has created a small and temporary dark forest called A Winter Landscape Cradling Bits of Sparkle. Made from a variety of trees and bamboo painted black with Chinese ink, the landscape seems somber and dormant. But enter a meandering path and you see signs of life and hope. Birds, buds and globs of glass — made by Pittsburgh-based artist Lyla Nelson — twinkle amidst the ground cover, evoking the coming spring, both as season and as metaphor.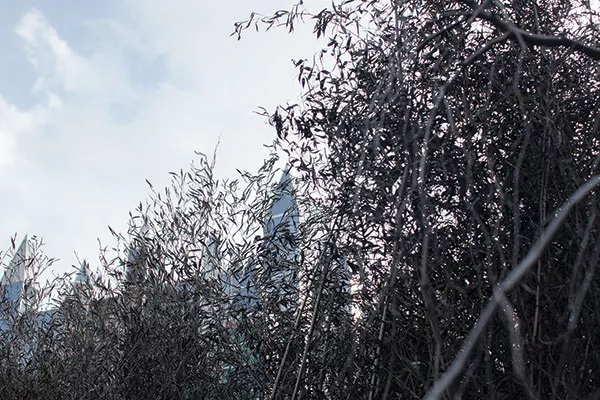 Ma explains that in China, winter is a time of quiet reflection. Winter Landscape is a small refuge in the city and a place to meditate. It reflects the elements of Pittsburgh that inspired her — its history, architecture, parks and rivers. But the piece also honors traditional Chinese ink painting and calligraphy. Ink is a dynamic medium that changes with the amount of water added and the type of brush and brushstroke used. For centuries, traditional ink paintings have symbolically reflected culture, philosophy, history, social order, politics, personal feelings and values and the inner workings of the mind.
Rather than silk or paper, Ma often uses living three-dimensional things as her foundation. These tableaux evolve over the life of the installation and speak to the powerful life force that renews and heals. They also explore the role of creativity to foster regeneration.
So, with the season of rebirth upon us, visit or revisit Ma's installation. As you tread the path, contemplate the forces of rejuvenation. And think about the diversity of life itself. Plants don't just sustain us; they have inner lives too. They sense and respond to their surroundings — light, water, gravity, temperature, nutrients, toxins, microbes, animals, insects and chemical signals — just like us.