From the very beginning, the Deutschtown Music Festival grew faster than expected.
In 2013, Cody Walters — a resident of the North Side's Deutschtown neighborhood for the better part of a decade — decided to create a small, multi-venue music event. He had organized a few autumn bar crawls in the area, and friends suggested he put together something in the summer. "I didn't want to do another bar crawl, so I thought, 'What do we already have here that is underutilized?' And that's music," he says.
The original plan was for 12 bands to play at three different well-established venues, including the Allegheny Elks Lodge, the Park House and James Street Gastropub and Speakeasy. It ended up with 12 stages and roughly 50 bands.
"We started talking about it, and other venues hopped on board," Walters remembers. "We decided to shut down the street and have a stage there. I had a wonderful group of volunteers who came out and contributed different ideas, and every band we talked to was completely on board with playing this goofy festival."
Since then, the festival has expanded exponentially. Last year, there were 80-plus bands and 15 stages; this year's schedule features more than 125 bands playing at 24 different stages. The line-up is a who's-who of local acts, including — to name a very few — Cello Fury, Beauty Slap, Slim Forsythe, Chrome Moses, the Weird Paul Rock Band and Fist Fight in the Parking Lot. But there are a few touring bands on the bill, too, including The Fed, from Washington, D.C., and The Appleseed Collective, from Ann Arbor, Mich. In addition to the more traditional music venues, shows will be held at Arnold's Tea, Bistro to Go, Neu Kirche Contemporary Art Center, and elsewhere. Walters also encourages festival-goers to check out the new outdoor venue at Penn Brewing, as well as the various non-music family activities provided by organizations like Artists Image Resource and City of Play.
"None of us are professionals at this. I'd never booked a band before in my life," Walters says of the logistical challenges that come up with such a large event. "It can be taxing at times. At every step there's one more thing. But there are 10 things that we did last year [that] we [now] know how to do. So the new [things are] much easier to deal with."
The festival is free, though Walters notes that in coming years, organizers might start charging for some evening events, largely for crowd-control reasons. (This year he expects about 15,000 attendees.) Thus far, bands have played on a volunteer basis. Financial resources, provided by various sponsors and fundraising efforts, primarily go toward things like sound systems for venues that don't normally host live bands. But Walters also hopes to provide musicians with some monetary compensation this time around.
"We aren't out to make a profit or make money off the backs of musicians," he says. "We're doing this for the love of local musicians and the North Side."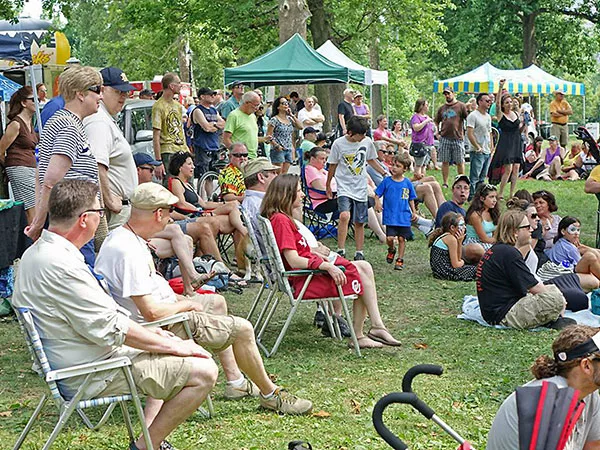 As for how its neighbors feel about the festival, Walters says the reception has been overwhelmingly positive. "It really is a well-behaved event," he says, recalling how, last year, he got up early the day after the festival to clean up. "I got down to the street and [it] was cleaner than it normally was," he recalls with a laugh. "We put a call out and said, you know, 'This isn't a Kenny Chesney concert, people live in this neighborhood, please be respectful, and treat it as if you were a neighbor.' And everyone amazingly did that." To cut down on parking issues, attendees are encouraged to park at the stadiums, take the T from Downtown, or utilize the shuttle buses that will be looping around the North Side throughout the day.
Musician and Deutschtown resident Joe Dep — a member of the bluegrass outfit Shelf Life String Band, which will perform at noon at the outdoor Park Stage, in Allegheny Commons East — hopes that the festival will serve as a gateway to a more vibrant North Side music scene.
"Right now we only have a few venues that offer music on a given night. It would be nice [if], instead of just one day in the North Side, [people would] come over more often," says Dep, who, along with his band, hosts a weekly bluegrass jam at the Park House. "You could just imagine the fun a person could have: They could go to this place to hear jazz, or this place to hear bluegrass, or this place to see rock 'n' roll. I think the goal is to make it something like that, where people want to keep coming back to the North Side for the music."
From the beginning, Walters' goal has been to promote the neighborhood, the bands and the venues, all at once. And so far, he's been happy with the results. "There was a moment the first year where I just stood there and looked at the crowd and it was just absolutely amazing," he says. "I like to say, 'It's impossible to see every band you want to, but you're guaranteed to see someone you've never seen before.'"