To say that promoter Josh Bakaitus was surprised by the turnout of last year's Strip District Music Festival would be an understatement.
"It was insane," Bakaitus says of the show's freshman year, which is sponsored by City Paper and Pabst Blue Ribbon. "I thought we would be successful if we got 2,000 people tops. We got at least 8,000 people."
The festival returns Jan. 16 and will provide a much-expanded program, even compared to last year's massive lineup. Last year's show featured 70 performers at 11 venues. This year's incarnation will have 170 artists at 21 venues. In addition to the live bands, there will also be live painting displays and a comedy venue.
"The main thing we learned after last year is that this show is about local music and the community over regional and national acts," Bakaitus says. "Last year felt magical because everyone knew each other. It was entirely local and was impactful because of that."
The show provides an opportunity for bands of all experience levels to get exposure because of its unique "pay what you want" format. There is no admission fee at the various venues, but patrons can donate to the artists on site. Donations can also be made ahead of time and during the event by downloading an app called Square Cash. With the app, you can donate directly to an individual act or to a general fund to be distributed to all artists.
Bakaitus says modernizing and expanding the means of donating was one of the improvements made after last year's show. Online donations were shut off at 2 a.m. when the festival ended in 2015. This year, the window will be expanded to Jan. 18 at noon.
The full slate of performers can be found online at www.stripdistrictmusicfest.com. This year's festival will offer a wide range of music — from indie-rock acts like Pet Clinic and Andre Costello and the Cool Minors and pop-punk acts like Mace Ballard to metal bands like Lady Beast and Greywalker. A handful of former bands including Once Nothing, Voice in the Wire, Tabula Rasa and Teddy Duchamp's Army are reuniting for the event, several of which will be playing at the Enrico Biscotti Warehouse.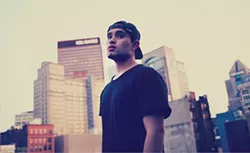 In addition, the festival will feature the Electronic Basement at Altar Bar, which will host performances from Lavier, DVPR, Velo and Lumariia. There will also be an outdoor hip-hop stage at Altar Bar, featuring acts like Palermo Stone, Taylor Gang, Beedie and Tairey. Hip-hop artist Shad Ali will also be playing at Casa Reyna.
"I'm really excited about the outdoor-stage concept," Bakaitus says. "We've really worked hard to expand the reach of the festival in terms of diversity. We've got a lot of great talent coming to this show from indie rock to Shad Ali. We want the vibe to be pretty free-flowing."