For one day, Pittonkatonk will transform Schenley Park into a whirling convergence of horns, trombones, drums and barbecue. The all-ages brass music festival returns for its second year, this time with even more local and touring bands, kid-friendly activities and handmade Serbian sausages.
Last year's Pittonkatonk saw nearly 700 people, including about 100 performers. This year's festival will welcome national acts including: What Cheer? Brigade, from Providence, R.I.; New York's Pitchblak Brass Band; Chicago's Black Bear Combo; and the Detroit Party Marching Band. Local acts Beauty Slap, May Day Marching Band, Slide Worldwide and Col. Eagleburger's Goodtime Highstepping Band will also perform, along with Pittsburgh-area high school marching bands.
Like most grand plans, it all began one night at the Brillobox.
Scratch that. This story begins at Lollapalooza, in 1993, when a teenage Pete Spynda was handed a brochure about "indie rock" by longtime Pittsburgh music promoter Manny Theiner. The flyer was Spynda's introduction to college radio, Don Caballero and self-discovery in the LP aisle. "It was mind-melting," says Spynda. "It changed my life."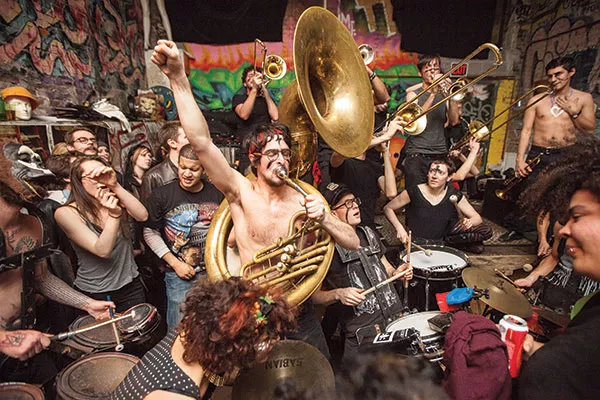 Fast-forward a couple of decades and Spynda is now one of the city's most prominent event producers and DJs. He's responsible for Pandemic, Weather Permitting and programming the Bayardstown Social Club.
"Pete had a reputation for making stuff happen," says Rich Randall, an associate professor at Carnegie Mellon University who looks at music, technology and culture in the 21st century. Randall was wrapping up a project for CMU's Center for Arts in Society and had an idea for something new — a May Day event focusing on music and labor. He and Spynda chatted upstairs at Brillobox, and Spynda thought about the sweaty, raucous What Cheer? Brigade shows his friend Jason Dunbar had been putting on in his Highland Park garage: donation-based attendance; explosive, genre-defying sounds; lots of eating and drinking and dancing.
"Those Dunbar parties were really the precursor to Pittonkatonk," says Spynda.
The first Pittonkatonk, in May 2014, was "the most fun Schenley Park's had in a long time," says Dunbar, who now volunteers with the festival. "It's the most inviting community. It's almost impossible to have a bad time when watching these bands."
But this is more than a musical festival. As Spynda says, "We're not just trying to throw a party in the park."
The focus of Pittonkatonk is on community. It's about bringing together people who might otherwise never convene, and blurring the line between performer and spectator. There's no admission fee, there are no food trucks, and there's no stage or sound system.