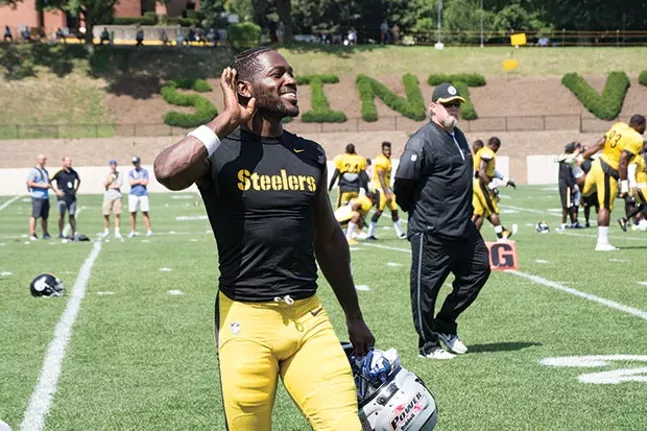 I am not a football purist.
I'd rather see an unnecessary one-handed catch for the sole purpose of showboating than a fundamentally sound catch that looks routine.
I'd rather see a quarterback scramble for 45 minutes and risk a huge sack to make a spectacular play than throw the ball out of bounds.
I'd rather see a player launch into an elaborate touchdown celebration than score and hand the ball to the referee.
In short, I'd rather have a showboat who is both great at the game and a larger-than-life cartoon character. The NFL tried for years to knock unabashed bravado out of the game when, in response to a series of elaborate TD celebrations, it severely limited celebrations starting in 2006. This year, the rules have been relaxed and celebrations have become elaborate, probably too elaborate, but still it's nice to see players being allowed to have fun while playing a game. This year's celebrations have me thinking about my favorite showboat players, and I have thus compiled a list of my NFL All-Showboat Team — players who were brash, cocky and talented.
Quarterback
Starter: Joe Namath, New York Jets. The Beaver Falls native and Super Bowl-winning QB was unlike anything pro football had ever seen when he entered the AFL in 1964. He wore fur coats and white shoes, did panty-hose commercials, and made guarantees of victory and backed them up.
Backup: Jim McMahon, Chicago Bears. The winning QB of the 1985 Super Bowl, McMahon was all personality. That seemed strange for a guy who started his college career as a punter for Mormon powerhouse, Brigham Young University. McMahon was an underrated quarterback and an overrated rapper for his Super Bowl Shuffle.
Running Back
Starter: Walter Payton, Chicago Bears. "Sweetness" was as classy a showboat as you'll ever see. High-stepping into the end zone with the ball high in the air seems tame by today's standards, but Payton loved to show you how good he was. Easily my favorite player on this list.
Backup: Icky Woods, Cincinnati Bengals. His Icky Shuffle touchdown celebration is the standard by which all celebrations are judged. He was a dominant rookie in 1988, but injuries put him out of the league in 1991. Some might argue this pick is based on career brevity, but that dance is everything.
Wide Receiver
WR1: Terrell Owens, San Francisco 49ers. Owens played for several teams in his career and was a show-stopper on every one of them. He scored with ease, and his touchdown celebrations are what led to the 2006 crackdown. As a 49er, he twice celebrated a touchdown by standing on the Dallas Cowboy's midfield star. The second time, he was leveled by Cowboy George Teague. His ability to raise that kind of a response makes him an easy pick.
WR2: Randy Moss, Minnesota Vikings/New England Patriots. Once did a touchdown celebration where he fake-mooned fans in the end zone. Big mouth, huge talent.
WR3: Antonio Brown, Pittsburgh Steelers. He was once fined for one too many pumps in a twerking celebration; he once went live on Facebook from his team's postgame locker room and recorded coach Mike Tomlin calling the Patriots assholes. Those are great showboat credentials especially when added to his prolific on-field play.
WR4: Homer Jones, New York Giants. In 1965, he scored a touchdown and invented the spike.
Tight End
Starter: Rob Gronkowski, New England Patriots. I cannot tell a lie. I love this guy. He loves to party and he plays his ass off (whenever he's not injured of course). Prior to the Pats' Nov. 19 game in Mexico City against the Oakland Raiders, Gronkowski had a message for the people of Mexico: "Yo Soy Fiesta." "I am Party." Yes he is.
Special Teams
Kicker: Billy Gramatica, Arizona Cardinals. He once kicked a first-quarter field goal that gave his team a 3-0 lead. He celebrated so hard that he tore his ACL.
Defense
Deion Sanders, Dallas Cowboys. If you need an explanation, you probably shouldn't have been reading this far down. Definition of a showboat.a
Shawne Merriman, Buffalo Bills. An absolute monster who would basically obliterate you with a tackle and dance over your corpse.
John Randle, Minnesota Vikings. The Hall of Famer was a trash-talker's trash-talker. Half the time it didn't make sense. And if you were a quarterback, by the time you realized what he was saying, he was driving you into the turf. He acted like a maniac and that made him brilliant on the field.
Leon Lett, Dallas Cowboys. To be honest, I don't even know whether Lett is anything more than an average-to-OK NFLer. But the day he almost turned a fumble recovery into a 70-yard touchdown run in the Super Bowl made him a showboating legend. The big man started celebrating early and had the ball knocked out of his hands at the two-yard line.
Warren Sapp, Tampa Bay Buccaneers. On a list of guys who act like assholes, Sapp may be the biggest. During pregame warmups he'd run through the opposing team's side of the field, generally being a huge douche. But he was a sack master.