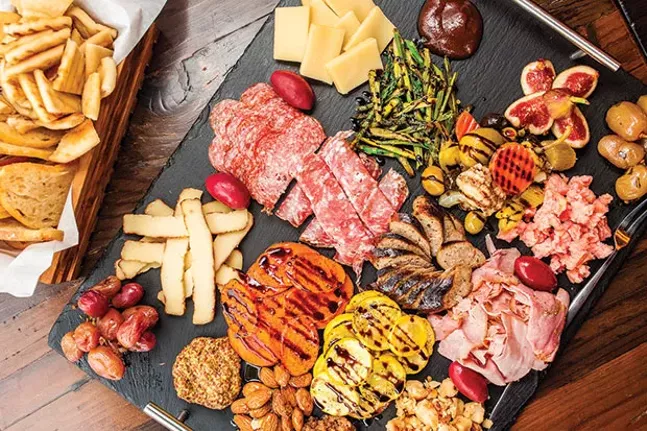 Let's not beat around the bush: Dinner at Eighth & Hays was the best meal we've had in Homestead. And if that sounds like faint praise, consider that we've yet to be disappointed in a restaurant in the former steel capital of the world — not on the town side of the tracks, anyway. Even amid this field of solid contenders, Eighth & Hays stands out.
Located in a made-over former Eat 'n Park that is now attached to the venerable Duke's Upper Deck, Eighth & Hays is a wine bar-slash-wood-fired-pizza restaurant that sits in a sweet spot between swank and casual, between well plated and finger food. A pair of gas fireplaces dividing the bar area from the dining room warmed the interior's au courant cool-gray color scheme, and seating ranging from high-top tables to cushy club chairs completed the inviting vibe.
Actually, there was something else, something a little harder to pin down than the interior design decisions: an ineffable sense of neighborliness. People greeted each other from different tables, and it was hard to tell who worked there versus who was a regular.
Eighth & Hays is a 21-and-over place, which we assume is an artifact of arcane state liquor laws, as there's no obvious incompatibility between family dining and a menu of charcuterie, sandwiches and pizzas. That said, it's a sophisticated selection, ranging from buttermilk fried chicken on brioche to veal cheeks with mushroom risotto and asparagus. Despite the emphasis on pizza and panini, the menu relied on very few of the standard defaults beloved of the gastropub and modern-bistro genres.
A starter of blistered kielbasa could have been a simple nod to the local working-class staple, but the kitchen did a lot with a little. It started with an outstanding, well-balanced sausage that was sliced thin on the bias, then drizzled with a lightly sweet-tart glaze to temper the savoriness without pushing into actual sweetness. Narrow slivers of fire-toasted pita were addictively crunchy-chewy, and a plenty of good grainy mustard rounded out the flavor profile.
Charred cauliflower with chimichurri was only very lightly charred and retained a faint crunch. Instead of the classic blend of bold herbs and olive oil, the dressing was a sort of Parmesan-cream enlivened with herbs. It was flavorful in a refined, modulated way.
The salad selections were more interesting than most, combining plenty of ingredients without resorting to everything-but-the-kitchen-sink status. We chose the beets and bleu, a mass of mixed greens studded with nicely roasted golden beets, red onions, dried cranberries, crushed candied pecans and crumbled bleu cheese. Somehow, the pecans almost mimicked bacon, adding crunch, salt and a hint of sweetness. The salad was heavily dressed in a honey-shallot vinaigrette, more heavily than we would have liked, but fortunately the flavor was subtle.
Similarly, of a dozen pizza choices, only the Margherita was really a traditional Italian pie. The rest were an array of gourmet styles, such as pot roast, shrimp scampi and "Italian flag" (topped with red sauce, pesto, alfredo and much more). Angelique was tempted by the pear and bleu cheese, but ultimately succumbed to the "swine," which evoked common meat-lovers' pizzas while completely surpassing them. Pulled pork provided a tender baseline, while bacon added smoky notes and pancetta, aromatic richness. Beyond the meats, charred tomatoes brought extra depth of flavor, and scallions and other herbs kept it bright. The crust was light and crisp, with just enough chew to stand out from cracker-style flatbreads.
Daily specials let the kitchen stretch beyond finger food. On our visit, there were oysters Rockefeller, a cold surf-and-turf appetizer, an open-faced turkey sandwich, and our choice, the above-mentioned veal cheeks. Though the accompanying mushroom risotto was distractingly al dente, beyond that, the dish was flawless. The risotto's flavor was good, the asparagus was blistered and bold, and the veal was extraordinarily rich and fork-tender. A simple pan sauce pulled the dish together, knowing better than to compete with the wonderful meat.
Eighth & Hays' atmosphere, its service, and the conception and execution of its menu were all top-notch. Neither a by-the-numbers gastropub nor a pretentious destination restaurant, it's fine enough for a special night out, but too good not to go tonight.