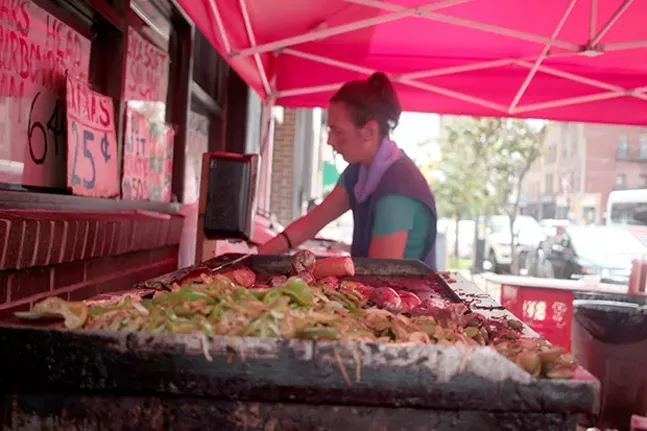 The sign is impossible to miss as you cross the Bloomfield Bridge and turn onto Liberty Avenue: "Pittsburgh's Little Italy."
Even though the sign was only dedicated in 1993, Bloomfield has been the city's Italian enclave for decades. That legacy will remain, but the neighborhood is transforming.
Bloomfield is home to new ethnic restaurants, including Thai, Mexican and even Azorean (an Atlantic island chain) cuisines. Students and millennials fill rowhouses, sharing space with the older Italian-American residents.
But a walk down Liberty still showcases some old Italian treasures. Donatelli's Italian Food Center begets with a large red, white, and green awning. Step inside and shop for crisp and sweet pizzelles, homemade pasta, and sausage made from the same 80-year-old recipe.
That's Frank Donatelli's recipe. The son of Italian immigrants, he founded this store in 1932. When he retired in 1975, his son, Paul, took over. Now, Paul's sons, Russell and Paul Jr., run the show.
In the time working at his grandfather's grocery store, Russell has seen Bloomfield change. It's still Little Italy, but he's noticed how the neighborhood is different than the one from his childhood. "Most of the people came from Italy," he says. "... They worked here, shopped here, and lived here."
Now, with commuting rates up and Bloomfield's population half of what it was in 1960, it's not quite the same. "A lot of the people have been passing away, and things change," Russell says. "Different types of people are coming into the area, which is good. Younger crowd."
Prior to the 1960s, Bloomfield was where most Italian Americans in Pittsburgh lived. An article from the Pittsburg Leader dated Jan. 21, 1906 — back then, the city's federally recognized name was spelled sans "h" — reveals the early wave of Italians making their way to Bloomfield. "Of late years hordes of Italians have made their home in the Sixteenth," referring to Pittsburgh's 16th Ward.
When those "hordes" reached Bloomfield, they settled and opened shop. At only 9 years old, Dan Cercone came over with his mother, Rachel; his father, Panfilo, had been working in the area and finally raised enough money to send for his wife and son. Dan would later open a barber shop on Liberty Avenue. It's still there today, though its founder and namesake died in 1992, and is now run by his grandson, Dennis Scullion.
The Dan Cercone Barber Shop and Donatelli's are two of the last bastions of Bloomfield's Little Italy.
Donatelli's is the last surviving traditional Italian market. Its nearby competitor, Groceria Italiana, announced its closing last month. The storefront, once nicknamed "the Stink Shop" by neighborhood kids, is still open, but Groceria Italiana has sold every last ounce of its remaining food products. All that remain are assorted glassware and knick-knacks, for purchase by cash only.
And once all glassware and knick-knacks sell, the old Little Italy will be all but gone. The remaining Italian businesses — including Donatelli's, Dan Cercone Barber Shop, restaurants like the Pleasure Bar and Sausalido — are more like tributes to their predecessors.
That's not to say they're not all great. The Pleasure Bar, for instance, serves simple, authentic Italian food (try the three cheese tortellini), while Merante's Gifts is one-part Italian gift shop, one-part Mama's kitchen.
Time your visit right and you might be lucky enough to chat with Maria Merante while she bakes chocolate crinkle cookies or tomato pies in the back of the store. She's been in Bloomfield since 1995. The old Little Italy, Merante says, was based around immigrants who came over at similar times. The modern Little Italy is based on its history.
That convergence of history and progress will come together at the annual Little Italy Days this weekend. With out-of-town vendors, the festival will cater in part to Bloomfield's younger, hipper, less Italian populace. But for old-timers, lifelong residents, children and grandchildren of immigrants, and those who want to head back in time, Little Italy Days will still offer up a chance to relive old Little Italy — and to look forward to Bloomfield's future.
__
Little Italy Days begins 6 p.m., Thu., Aug. 16 and continues through Sun., Aug. 19. Full event schedule available online. Liberty Avenue, Bloomfield. Free. littleitalydays.com