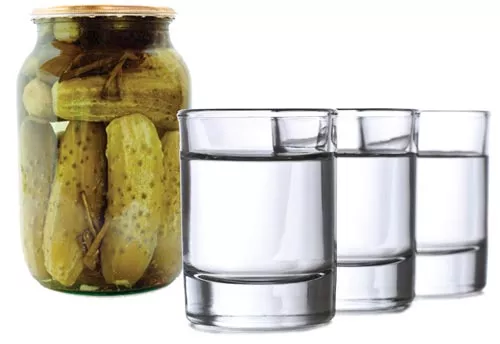 All in all, there isn't anything about Sonny's Tavern that would call out to the uninitiated.
The bar is on a quiet corner of a side street in Bloomfield. There are a few neon lights in the windows and a simple sign, but nothing that screams, "Drink here!" It's a neighborhood bar, patronized mostly by regulars.
In fact, what's most notable about Sonny's is something most casual visitors have little chance of noticing. Like many "regulars" bars, Sonny's boasts an off-the-menu drink that sets it apart: a shot of vodka, followed by a shot of pickle juice.
Barroom legend has it that the idea was sparked 14 years ago, when a Sonny's regular returned from Russia with stories of drinking overseas. "What they do there is give you a bottle of vodka and a plate of pickles," explains longtime patron Jeff Stazer.
"We looked at him like he was crazy," Sonny's owner Greg Volker reminisces. "About three years later we finally tried it, and everyone loved it."
Some adjustments have been made to the tradition, however. For starters, the vodka at Sonny's is served by the shot -- not by the bottle. And pickles are available only intermittently: Volker buys pickles in 5-gallon tubs, and has "pickle night every Tuesday." Otherwise, though, the Russian tradition of serving pickles on plates "wasn't easily transferable," Stazer says. So at Sonny's, pickle juice is typically dispensed through a squeeze bottle instead.
Either way, though, vodka and pickles are a winning combination. The brine of the pickle juice immediately cuts the vodka's harshness, while the vodka highlights a sweetness you don't often notice in pickle juice. It's an enjoyable experience, so long as you don't drink too many of them. (And at $3.75 a shot, this is highly possible.)
What's more, as Johanna Klotz, yet another bar regular, explains, "It's a culture at Sonny's to partake in the pickle-juice shots." What more reason do you need?