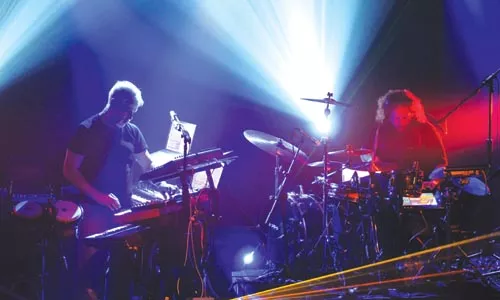 Without ever playing a noodling guitar solo, talking about good vibes or sounding like, you know, The Grateful Dead, the electro freaks of EOTO draw the jam-band faithful en masse for long nights of breakneck dancing. How does a duo made up of just drums and a synthesizer accomplish such a thing?
It certainly doesn't hurt that EOTO's Jason Hann and Michael Travis are best known as members of bluegrass jam-band titans String Cheese Incident. Although the duo does improvise -- don't expect to hear tight, three-minute Ke$ha jams -- EOTO's popularity also points to the misconception that jam music is all rambling, guitar-driven sunshine. Hann couldn't care less -- as long as you're dancing.
"String Cheese does have a stereotypical crowd: people with hula hoops and fairy wings," says Hann of his main band's neon-hippie demographic. "But with EOTO, we don't get caught up in people looking a certain way. If you like to dance, that's the only requirement."
Though most see EOTO as a String Cheese side project, the two inhabit opposite sides of the musical universe. Cheese's twinkling keys and ever-cascading guitar solos won't be found; EOTO creates hazy dubstep that'll blow your speakers, and quite possibly your mind, to shreds. Gurgling, earthquake bass makes EOTO's low end continent-huge, while otherworldly noises form webs of melody. Hann and Travis create the heaviness of deep, dark house music at half the speed and twice the volume.
Unlike most electronic artists, though, EOTO does it all live. No pre-set beats, no single-button production. Each track is recorded, mixed and looped from stage.
"We play a show off the top of our heads," says Hann. "Like, 'We've been on this melody for awhile, let's go to another. We've been doing something mellow, let's go harder.' It's just a feeling-out process. And it won't just be different melodies; we explore different types of sound."
Because of that spontaneity, each EOTO show is vastly different from the one before; fans don't want to download a favorite song, but re-experience a favorite moment. It's a win-win: Hann and Travis get to explore the weirder corners of dubstep, making the crowd not dance so much as fold in half to the beat.
It's a far cry from String Cheese's floating fairy-dancing.
"The way to get down definitely looks different from the stage," says Hann. "But it's all good if everyone is still getting down."
EOTO 9 p.m. Tue., May 4 (doors at 8 p.m.). Rex Theater, 1602 E. Carson St., South Side. $12 ($15 day of show). 18 and over. 412-381-6811 or www.rextheater.com