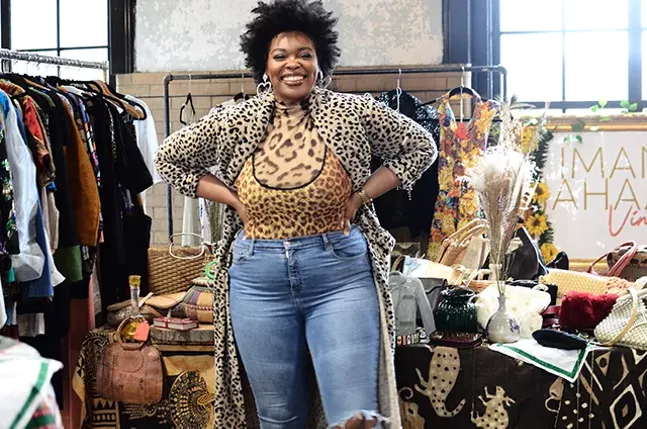 Self-description: A Black creative making her way in Pittsburgh. I feel like I am on a global scale but happy to be serving the local community of Pittsburgh.
What are you wearing today?

Today I gave you the trifecta. [Laughs] I gave you cheetah from the head to the toes! I am giving you a cheetah bodysuit, cheetah turtleneck, and a cheetah bathrobe that I am wearing as a duster! And then I come down to my shoes — I am wearing my Safari hype sneakers with cheetah socks! [Laughs]
The cheetah print Nike Air Max!

Yes, the Safari Pack collab. I am loving prints, and I am loving them. So I am showing you today I am not afraid of anything or prints. [Laughs]
Are you wearing anything that is a special gift to yourself?

I think everything I am wearing is a special gift to myself. When I shop, I think of special events. I think of how I want to present myself in the world. So when I shop, I try to be super intentional. Even though I am getting things at a lower cost, it doesn't mean, "Buy everything." So I am thinking about outfits as I am shopping, and this morning I was able to throw this on with the grace of God.
Are you wearing a gift from someone else?

This ring is an ankh ring. My grandmother loved ankhs. So this was not from her, but it just screams "Anna Mae Wilson!" And she named me. She kind of gave birth to Imani Jahaan Vintage by taking us to swap meets and flea markets as a young kid, just being drug along. Now I am the one dragging my partner around. [Laughs] So it's generational, what I am doing. The ankh is a symbol of the feminine and masculine energy coming together — divinity. Those are things that lead my moral compass. I am proud to wear it.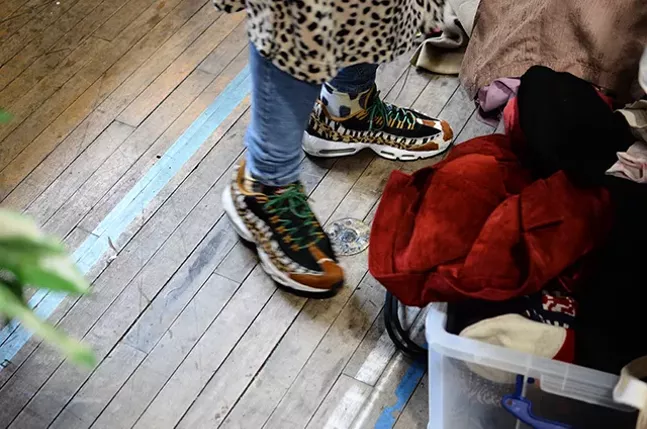 How do you get all of your amazing vintage finds?

That is the question of the day. OK, I go where you don't want to go. You don't want to go to a small, dirty, uncleaned basement … digging and finding a treasure … I am going to less desirable places and bringing it to you, presenting it in a beautiful way.
People ask why vintage is more expensive sometimes than thrift. It is our expertise, our travel time, it's our dedication. We dig, we curate. … We bring it to you in a beautiful way, minus all of the other stuff.
What are you excited about for late spring/summer?

I am excited about expanding, my partner and I, Darren Talent … We're growing, we're traveling. He is out of New York City, I am here in Pittsburgh. … We show love here and in New York. I am excited to do more pop-ups in New York. And just get our name out there.
Do more styling clients. I am a stylist as well and a make-up artist. I like to do anything creative and make things beautiful.

For more info, visit imanijahaan.com.