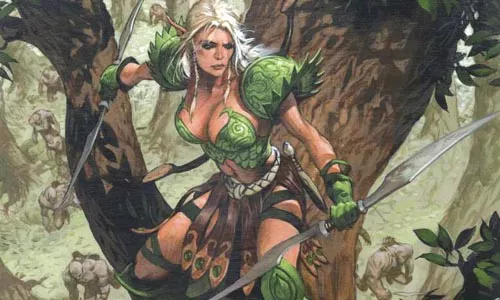 When I was 14, two buddies and I imagined ourselves with cloaks and swords, battling orcs and meeting elf princesses from The Lord of the Rings. Eventually, I put away these childish things. I became an adult and an even bigger geek. Now I carry a cell phone. I spend hours in front of a computer interacting with people I never see.
Off the Page and Into the Imagination, an exhibit of artwork by Chris Moeller, taps into both our earlier and later adolescent selves. The work ranges from idealized sword-and-sorcery images to darker erotic visions.
Moeller, who lives in Mount Lebanon, is 47, with a master's degree in of fine arts from the University of Syracuse. He began his career with Innovation Comics. He's written and illustrated -- with full-color paintings -- his own Iron Empires series, including titles like Sheva's War and Faith Conquers. Other writing and illustration credits include DC Comics' Wonder Woman, and he's done covers for DC's Batman and Lucifer series, as well as illustrations for video games and gaming cards.
In a recent phone interview, Moeller said he is influenced by Tolkien and other writers who "have a rhythm to their storytelling." He adds, "[Tolkien] creates an actual living world that provides a consistent reality."
The exhibit begins with art for the Trinity role-playing game. In one piece, male and female humans (or humanoids) stand, the male firing a weapon; behind them, a spacecraft explodes against the malevolent shadow of an enormous alien figure. Further on, an athletic female elf dressed in green (from Magic: The Gathering) crouches in a tree while male creatures pass ominously below. In "Needle Specter," a hooded figure rides an enormous wasp against a background of dark clouds and lightning.
The back wall of the gallery displays several covers from Lucifer. In one, a woman with closely cropped dark hair and armored wrists lies asleep or injured. A male figure leans forward from the shadows and kisses her tenderly. Also exhibited are Moeller's first cover and detail sketches from Sheva's War. In the former, a nearly naked female figure stands with her arms crossed. She stares directly at the viewer with a world-weary gaze. A holstered weapon hangs on her hip and a larger gun is slung across her back.
Additional impressionistic paintings follow from Moeller's later work -- in which, he says, he is "exploring new directions." A naked girl with budding breasts raises her hands, releasing a flock of doves. In "Drifting," a man buries his face in a woman's naked thighs. "Flayed Man/Resurrection" crosses the line into a kind of pornographic violence, evoking The Passion of the Christ with a bloody red chest and skeletal, withered shanks.
In Moeller's world, prehistoric antlered creatures wreak havoc, ominous wraiths hover mounted on insects, and muscled men and buxom women carrying swords or axes threaten and seduce. To some, such depictions might seem to exploit male and female sexuality -- especially the latter, given the preponderance of images of women. To others, they might simply acknowledge our deepest desires.
Human beings have always expressed their dreams, fantasies and nightmares in art, whether in cave paintings, on the inside of pyramids or on cathedral walls. Today comic books, graphic novels and video games reveal the uncontrollable universe and the dark recesses of the human psyche.
Despite (or because of) modern realities and scientific truth, fantasy still exerts a powerful hold. It provides us with wish fulfillment, or escape from our technologically circumscribed lives. Where else can computer geeks and office workers, who often do nothing more exciting than use a Blackberry and send e-mails all day, re-imagine themselves as powerful figures vanquishing dangerous creatures, rescuing beautiful princesses (or princes) and saving humankind?
Off the Page and Into the Imagination: The Art of Chris Moeller continues through April 25. 709 Penn Gallery, 709 Penn Ave., Downtown. 412-471-6070