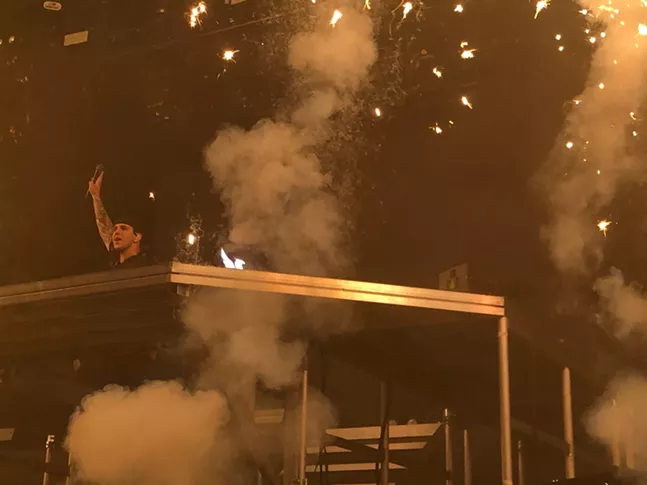 Unintentionally, I saw Illenium twice within a week. First, last Friday in Las Vegas at Hakkasan Nightclub, and then on Wednesday at Stage AE. How different the two shows were wasn't necessarily surprising — one was a club setting and the other the first stop on his ASCEND tour — but I was shocked at the energy brought to Stage AE. For the first time ever, Illenium played guitar live on stage. How did Pittsburgh get so lucky?
During his Vegas set, Illenium, known for his sentimental "sad-boy" and "sad-girl" music along with hard-hitting trap and dubstep played mostly songs by other DJs, like Rezz and Flume. This makes sense; Vegas is a party city. Most of the time, people at a club set are just there to drink, dance, and listen to music. Tour shows are when the true fans come out; the time to pull out all the stops.
What stood out to me among all the songs I've seen performed live this year was "Gold (Stupid Love)," Illenium's collab with Excision. Their biggest hit, which gets dropped constantly during sets (I've heard it at least six times this year that I can recall), took on new life as Illenium shredded the guitar. Video was being recorded everywhere you looked, the sounds of astonished "oohs" and "ahhs" during lulls echoed across the river. I had goosebumps as love was reignited for a song that had lost its original magic. Thank you, Illenium, for bringing something special to Pittsburgh. You made all the sad boys and girls cry.
BRB, I'm going to go watch the video I took of the song for the 10th time today.