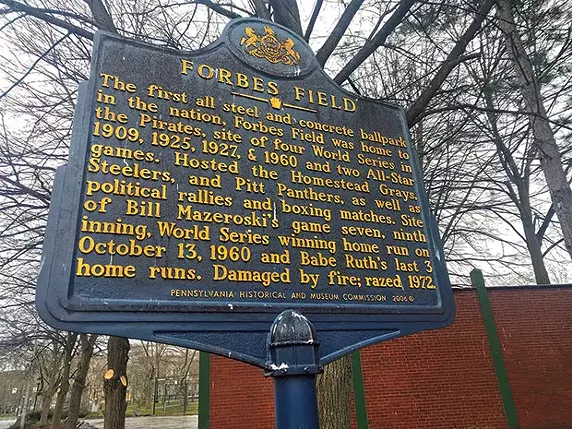 Allegheny County has about 150 designated historical markers commemorating Pittsburgh's contributions to labor, literature, medicine, military battles, music and, of course, sports. While statues are one way to pay tribute to a person, when you realize there's a statue of Fonzie in Milwaukee, the value of a bronze doppelganger decreases in value. But a historical marker, now that's a real tribute; or, as Fonzie would say, it's cooler.
While other publications can argue the merits of which war memorials are best, we're going to look at the county's best historical sports markers ranked in ascending order. Let the debate begin.
The Homestead Swim Team. 510 E. 10th Ave., Munhall. Nowadays, being the best swimmer at a library in Munhall doesn't take you far; but it used to. Four U.S. Olympic swimmers trained there in the 1920s and '30s, and collectively won bronze, silver, and gold medals.
Greenlee Field. Bedford Avenue and Junillo Street, Hill District. This was the home of the Pittsburgh Crawfords and, later, the Homestead Grays. The $100,000 ballpark opened with Satchel Paige throwing the first pitch to catcher Josh Gibson. In contrast, PNC Park opened with Todd Ritchie throwing to Jason Kendall.
Johnny Unitas. 40th and Butler streets, Lawrenceville. Pittsburgh has produced some Hall of Fame players in its day, but only one has a historical marker: Johnny U. A four-time MVP and a regular on the list of all-time greatest players. Now, even the hipsters in Lawrenceville know who he is.
Josh Gibson. 2217 Bedford Ave., Hill District. The "black Babe Ruth" grew up partly in the area and went on to become one of the all-time greats. Gibson was inducted into the Baseball Hall of Fame in 1972. Josh Gibson Field (formerly Ammon Field) is where the marker is located.
Honus Wagner. Mansfield Boulevard and Chartiers Street, Carnegie. If you're ever vacationing in Carnegie, stop by and pay homage. Not only the greatest Pirates player of all time, but still the greatest shortstop ever. Eight batting titles and he was the first man to steal second, third and home in an inning.
Art Rooney. Tourman Street and Coulterville Road, Coulter. The Chief's father owned a saloon in Coulter; sometimes it's called Coulters. (We like to add an unnecessary "s" to a word sometimes, like Giant Eagles or Kmarts.) The Rooneys left the town and moved to the North Side and, well, you know the rest.
Homestead Grays. The Waterfront, in Homestead, near the train tracks and the bridge. The marker is near the bridge that is also named after the team. The Homestead Grays had 12 players who went on to the Baseball Hall of Fame. They made Pittsburgh the City of Champions before it was cool.
Three Rivers Stadium. Art Rooney Avenue near North Shore Drive, North Side. Over 30 years, the Blast Furnace saw its Steelers turn from also-rans into a powerhouse. It was the site of the Immaculate Reception, and every game since then has sold out. It was the most beloved of the cookie-cutter concrete-doughnut stadiums of the early 1970s.
Forbes Field. 3950 Roberto Clemente Dr., Oakland. The House of Thrills was the gold standard of American baseball parks. The team's owner, Barney Dreyfuss, didn't want a park with cheap home runs, so he put a 12-foot-high fence around the outfield walls. Plus another 28-foot wall down the line. Nobody ever threw a no-hitter at Forbes. The site of Bill Mazeroski's World Series home run, and a stadium built in 1909 that lasted twice as long as its successor.
First Professional Football Game. North Shore Drive and Art Rooney Drive North Side. It wasn't the first game, but it was the first game that a guy was paid to play in. In a contest between the Pittsburgh Athletic Club and Allegheny Athletic Association, William "Pudge" Heffelfinger took $500 to play a game of football. It's still more than I make, and this was in 1892.
First World Series. Riverwalk near PNC Park. This is true American history. The first-ever World Series game was here in 1903. Pittsburgh was in it, but lost to the Boston Pilgrims (my great-great grandfather hated them so much). It's near the water steps, where you can see adults smoking cigarettes in their swimwear right next to their kids. Don't let that detract from the historical significance. The Pirates would go on to win five of the next 113 World Series. It doesn't sound like much, but only the Yankees, Cardinals and Red Sox have won more.