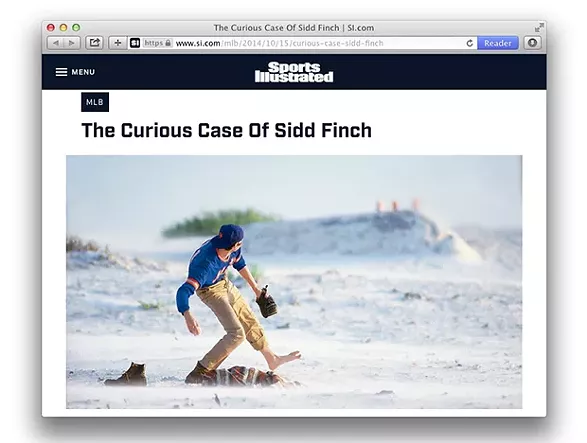 The rapidity with which Americans share fake news is astounding. We're doing it so much that it makes me wonder whether it's an addiction for some people; they engage in this reckless behavior even though they know it's harmful. My suggestion is, if you can't stop, then share fake news that is benign, like sports.
A few weeks ago, at the NHL trade deadline, I blindly retweeted a "breaking news" item that Pittsburgh Penguins goalie Marc-Andre Fleury had been traded. I quickly realized that I had been duped and deleted the item.
That made me remember the greatest fake sports story of all time, one that to this day I'm convinced some people still think was true. In March 1985, Sports Illustrated ran a story by George Plimpton about a baseball rookie named Sidd Finch, a reclusive man who had been signed by and was training with the New York Mets. The story told how Finch had a 168-mile fastball, was a master yogi, and pitched in only one shoe. His career choices were either baseball player or professional French-horn player. This story was pre-internet, so there was no way to debunk it — well, except for the fact that it was completely absurd.
Even at age 13, I knew it was fake and my suspicion was confirmed by a story a week or so later by Peter Jennings on ABC's World News Tonight. But at Easter dinner that year, an elderly man from our church came to dinner and afterward, he began telling the Finch story. I never said anything, but I was astounded that while I had figured the ruse out as a kid, this man (and a lot of other people) believed it.
At the end of the day, though, believing that story doesn't really hurt anyone. So the next time you get ready to share a story about the private army that Nancy Pelosi is assembling in preparation for a government takeover, Google and circulate the Sidd Finch story instead; it's much safer.