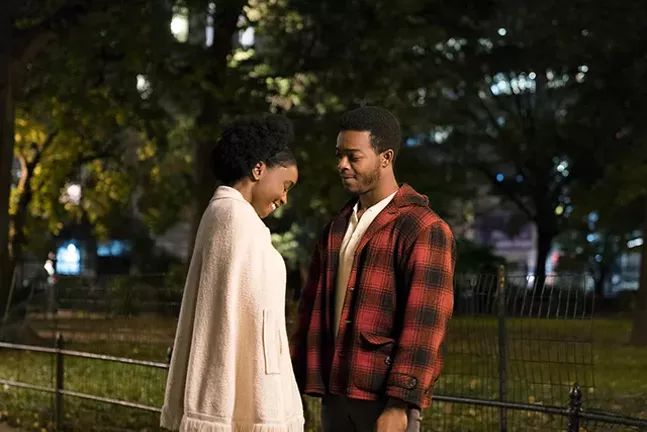 There are rarely beautiful sex scenes in film nowadays. They're often either raunchy, played for laughs, or shot lasciviously with the camera leering at the woman's body. But in If Beale Street Could Talk, adapted from the James Baldwin novel, director Barry Jenkins creates a world where the sex is beautiful and loving, because the couple is beautiful and in love, even when life takes a hideous turn.
In 1970s Harlem, 19-year-old Tish (Kiki Layne), a sweet and quiet girl, learns she is pregnant with the child of abstract sculptor Fonny (Stephan James), her partner and childhood friend. But Fonny is sitting in jail, charged with a rape he didn't commit because a white police officer had a vendetta against him. With the support of her family (but not Fonny's), Tish goes through with the pregnancy while taking every possible route to get Fonny free.
The movie alternates between the present-day—Tish visiting Fonny in jail, meeting with a lawyer, the pregnancy—and flashbacks of the young couple's love story, unfolding in parks lit by streetlights and dingy apartments. Dialogue isn't necessary to explain Tish and Fonny's love. It's obvious in the way they look at each other, standing close on the subway, or when they scream with joy in the street after finding a new apartment. When they have sex, there is the sense that nothing could possibly come between them.
Jenkins has a penchant for color (see: Moonlight), and the movie's hues and lighting mirror feeling. Blue and yellow crop up repeatedly when Tish and Fonny are together, or when they're apart but thinking of each other. All of it is bolstered by the score by Nicholas Britell, and is beautiful, sad, and tense, filling in where words just won't do.
Layne and James have such obvious chemistry that it feels unnecessary to point it out. They completely immerse themselves in their roles, playing lovestruck kids and world-weary adults equally well. Another standout is Regina King as Tish's mother Sharon, who manages to be both steely and warm in a way mothers often need to be.
Beale Street is about love, but it's also about how a corrupt justice system eats away at everything it touches. The damage done by Fonny's false imprisonment affects more than just him and Tish. The pain sprawls far and wide. Tish's father starts selling stolen goods to pay for legal fees, and her sister recruits a lawyer friend to take on the case, which starts to consume him too.
Sharon goes to Puerto Rico to find the woman who was raped and convince her that Fonny is not guilty just because a police officer told her so. The woman, still reeling from her real attack, is not convinced. It complicates the recently popularized "believe all women" slogan, which can be made murky by a justice system in which Black men are not given the benefit of the doubt, not believed.
Despite the tragedy of the story, and the bittersweet ending, Beale Street is hopeful. The slogan appearing on the movie's poster — "Trust love all the way" — comes from a line Sharon says to her daughter, who is pregnant and panicked. It's not saccharine, because, in a crisis that can produce no winners, all there is to do is rely on love.