Each week,
City Paper
food writer Maggie Weaver wraps up our favorite stories from Pittsburgh's food scene.
Sugar Spell Scoops opens storefront location
Sugar Spell Scoops
, Pittsburgh's first all-vegan ice cream company, unveils its long-awaited storefront in Sharpsburg this weekend.
Amanda Burk, the owner
and
brains behind the operation, introduced Sugar Spell Scoops to Pittsburgh at the 2016 VegFest. Her dessert debut sparked a city-wide demand for more scoops, and she began popping up at festivals, events, and selling wholesale to Naturally Soergels. In Spring of 2018, Burk announced plans for the Sharpsburg shop, finally celebrating an official opening Feb. 22.
Sugar Spell Scoops is a whimsical, galaxy-infused play with ice cream, home to some of the creamiest scoops in the city. Without dairy, the dessert is thicker, nuttier, and packed with flavor. But Burk doesn't stop at frozen treats. She also bakes glamorous, all-vegan cakes. Take her Valentine's Day offering —the "Smooches" cake — for
example:
layered chocolate and peanut butter ice cream, filled with chocolate ganache and cookie crumbs, wrapped in buttercream and finished off with chocolate, peanut butter, and white chocolate drips.
During winter, Sugar Spell Scoops is open Fri.-Sun., 1-9 p.m. Burk plans to offer ice cream in scoops and pints, "magic wands" (similar to Drumsticks), and cakes. Follow Sugar Spell Scoops on Instagram (@sugarspellscoops_pgh) for updates.
Closing: Cure
Cure, a popular Lawrenceville restaurant, is closing on March 23.
The restaurant, co-owned by acclaimed chef Justin Severino and Hilary Prescott Severino, has served Butler St. for over seven years.
Cure
is described as "a neighborhood restaurant" that focuses on adapting to Pennsylvania seasons, putting out an urban-Mediterranean inspired menu. The eatery was listed as one of Bon Appétit's Top 50 New Restaurants and Severino earned multiple James Beard Foundation nominations for his culinary expertise.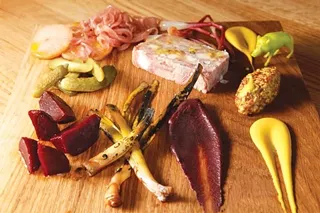 Severino has always focused on charcuterie, menus bursting with his talent. In 2018, Severino and Prescott Severino started Salty Pork Bits, a small-scale online charcuterie company. It lived in the basement of Morcilla (another Severino-owned restaurant) and quickly grew too big for
the space
. Cure's closure made room for Salty Pork Bits.
After Cure's final days, Salty Pork Bits will be the building's new venture. At the start, Severino will expand salami production and offer more subscription opportunities. In the future, the chef predicts a small dine-in section, a broad menu, and retail space.
Cure
is taking reservations up to Mar. 23. Join Severino, Prescott Severino, and their team for one last dinner.
Local Chef gets screen time
This Monday, local Chef Dave Anoia is ditching the kitchen for a camera.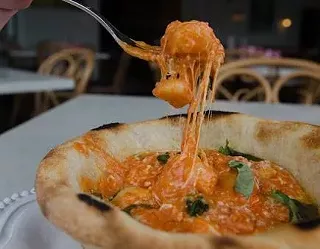 Anoia will be featured on the Cooking Channel's Best Thing I Ever Ate, the "ultimate guide to the country's most amazing meals, eats and treats."In his episode, Anoia showcases an ever-popular item from DiAnoia's Eatery, the gnocchi bread bowl: gnocchi, red sauce, and pecorino romano in a bread bowl topped with melted mozzarella and basil.
Watch the Pittsburgh chef talk pasta on Mon., Feb. 25 at 9 p.m. on the Cooking Channel.
National Margarita Day
Happy National Margarita Day, Pittsburgh! Check out these suggestions on where to celebrate the holiday frozen, on the rocks, or with salt.
● Tres Rios PGH
Tres Rios is throwing a margarita day bash, featuring six dollar house margaritas and DJ Loyal to fuel a tequila-powered dance party.
● Round Corner Cantina
Lawrenceville's neighborhood cantina is always mixing up margaritas, but there's something special up their sleeve for the holiday. Starting at 4 p.m., Don Julio is providing complimentary "Pineapple's Revenge" and "Slow Cookin' Carrot," cocktails to the first 30 customers.
● Condado Tacos
Condado is sticking to their original margarita, taking one dollar off the house concoction to celebrate.
● Bakersfield
Bakersfield knows the way to a marg-lover's heart: through chips and salsa. Stop by the Downtown restaurant and with any margarita purchase (pitcher, please!) they'll hook you up with a snack to match.
● Mad Mex
For the entirety of the day, Mad Mex is running specials on all in-house variations. Stop in for a three dollar 12 ounce, six dollar 16
ounce
, or seven
dollar
22
ounce
original, fruity, or sangria margarita.
● Kaya
Catch the end of Kaya's margarita week! The restaurant is showcasing menu favorites like the
mezcalarita
, spicy cucumber margarita, and the margarita de
lujo
.
● La Palapa
La Palapa has created a margarita flight just for today: the house margarita, ginger margarita, and pomegranate margarita. Paired with a taco and some guacamole it's a delicious celebration.