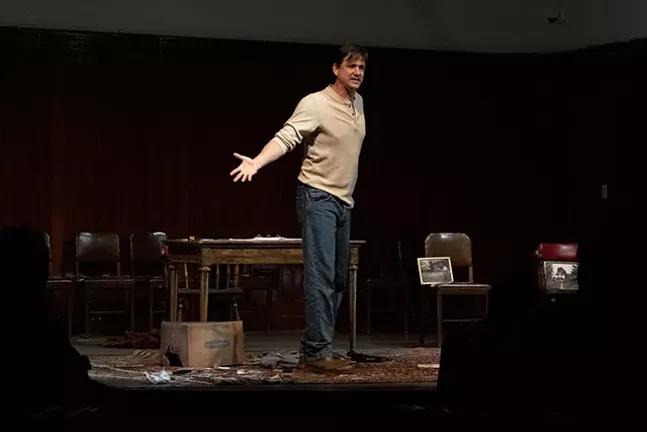 Personal disclosure: A one-man show about guns in America promoted with a tagline "loaded. questions." and a parenthetical "can we talk about this?" sounded to me like an absolute nightmare. I'd never seen a one-man show before but based on pop-culture references, I assumed they involved a lot of awkward pantomime and confusing impersonations. I expected an old-fashioned finger-wagging, one of those facile arguments about civility that feel both antiquated and woefully overmatched by any halfway serious subject (like, you know, guns). Mostly I worried the actor would try to talk to me.
But shit, man, I was way off. The Gun Show, written by E.M. Lewis and directed by Sheila McKenna, is a svelte 60-minute performance helmed by a charismatic lead (Andrew William Smith) and packed with some delightful little surprises. The biggest surprise — without giving too much away — is that the burly dude on the stage is portraying a character who is not burly and not a dude. There's some fuzzy fourth-wall stuff involving the actor reading a printout of the script on stage and reacting to it in real time, but overall the show is pretty straightforward.
The Gun Show is a collection of five stories about guns and gun violence from the protagonist's past. Early on, we're told that this person grew up with guns, but don't worry, they're not one of those nutty rednecks who spoon with AR-15s, nor are they a "granola eating hippie" hellbent on taking the country's guns and melting them down into participation trophies. And that's the gist of the script's schtick: the loudest voices on gun control are fringe fundamentalists and most reasonable folks like me and you have the capacity, and the duty, to have a mature conversation on the matter. Yeah, the message is a little cheesy and two dimensional, but Smith's delivery of the script is not. (Though I don't understand the need to drag granola's good name.)
Given its runtime, it doesn't make much sense to describe any of the stories in detail, but I can say they involve guns. I can also say they succeed in painting a somewhat nuanced take on gun control and thankfully, there are no insultingly easy answers sermonized when the thing wraps up. The Gun Show has every justification to be bad, and I really expected it to be, but I was wrong. If, like me, the play's cliff notes and bullet points read like red flags to you, I'd encourage you to ignore them and give this performance a try.

Continues through March 3. Multiple locations. $37. quantumtheatre.com