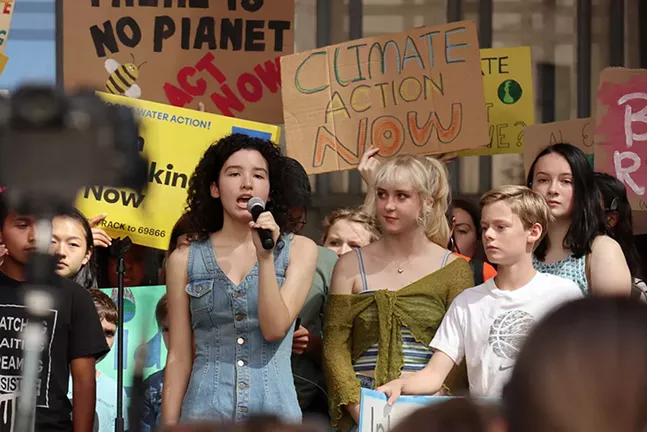 Earlier today, hundreds of protesters, many of them local students who walked out of class, crammed into the block between Forbes and Fourth Avenue for the Pittsburgh climate strike, a local protest that's part of the Global Climate Strike. Starting with an event at the City-County Building, it culminated in a march led through Downtown.
Students from area schools and colleges stood on the steps of the City-County Building, giving speeches and holding signs to express their frustration with the lack of action to combat the growing threat of climate change. Among them was
Leandra Mira
, the 18-year-old environmental activist who, for the last 17 weeks, has spent her Friday afternoons protesting outside the City-County Building.
Standing before the growing crowd, she spoke on the "toxic" air quality in Allegheny County due to industrial pollution, and criticized politicians in Pennsylvania for not having plans to end this public health crisis, instead focusing on making the state a "hub for plastic production," a reference to the Shell cracker plant
being built in Beaver County.
Since it was announced, the plant has come under fire from community leaders and others,
including students
, who believe the jobs supposedly being created by the plant do not justify the amount of pollution it's projected to produce.
"I strike because communities in Western Pa. are screaming and shouting for help but being ignored," she said. "I strike because those communities aren't white enough or rich enough for our politicians to care about them. And I strike because someone needed to stand up for them and I wanted to do that."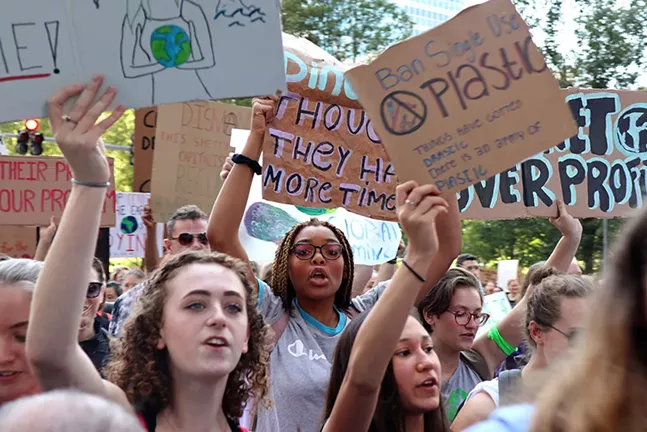 Mira also vowed to continue her strike until "Pennsylvania declares a climate emergency" and takes action to reduce fossil fuel emissions and run on all renewable energy by 2030, a more ambitious goal than the one set by the City of Pittsburgh's
Climate Action Plan
.
"It's because of all of you that change is going to happen," she concluded.
She was followed by a line of speakers, mostly children and teens, ranging in age from 5-year-old Malachi Browns to college students.
"I skipped my bio exam so I could be here right now," said Maria Isabel Villegas. Hailing from St. Thomas in the U.S. Virgin Islands, the University of Pittsburgh freshman spoke on how extreme weather often attributed to climate change battered her home and Puerto Rico.
Also from Pitt was senior Anaïs Peterson, the executive vice president of the student government board and organizer with Fossil Free Pitt, a coalition pushing the university to divest from fossil fuels.
"I am not striking for my future, I am striking for my today. The climate crisis is here, and it's been here for decades," said Peterson, emphasizing how the most vulnerable populations are hit hardest by climate change.
She called out older generations for not doing more to prevent and combat the climate crisis, particularly elected officials like Mayor Bill Peduto, who was in attendance at the event but appeared to have left before she spoke.
Benjamin Gutschow, a 17-year-old student from Winchester Thurston High School, read "The injustice of climate change: A call for united action," a speech from the perspective of high school students. Nine-year-old Elise Ley from Trafford Borough urged Pennsylvania Gov. Tom Wolf to do more to stop climate change.
Aidan Graber, an 11-year-old from Westmoreland Count, talked about how he and his parents fought to prevent the natural gas industry from building fracking well pads in their neighborhood, particularly near his school, Trafford Elementary.
Like Ley, he also spoke about holding Gov. Wolf accountable, in his case for not doing more to tackle natural gas extraction-caused pollution in the state. He told one story about traveling to Harrisburg to meet the governor last January. After initially being turned away, he, his mother, and his aunt were able to meet with him.
"When I shook his hand, I told him to stop making excuses," said Graber, before urging the crowd to write to their local officials demanding clean air and water.
Some adults also spoke, including a representative from the United Electrical, Radio, and Machine Workers of America (UE), the first industrial union to endorse the Green New Deal proposed by members of the U.S. Congress to address climate change and economic inequality. With guitar in hand, Mike Stout, president of the Allegheny County chapter of the Izaak Walton League, played a song called "The End of Fossil Fuel Man."
State representative Sara Innamorato (D-Lawrenceville) gave a speech thanking the event organizers, the students, and the school districts supporting them. Like previous speakers, she also called out elected officials for not doing enough, including in Southwestern Pennsylvania where studies show that poor air quality has led to high asthma rates among children, or worse,
death
.
"I ran for office because I saw my community is suffering," she said. "I ran because the rich and powerful will always protect the rich and powerful. And I ran for office because I know another world is possible."
Dr. Patricia Demarco spoke as both a longtime environmental activist and grandmother worried about the future her grandchildren face.
"Fifty years ago, we stood in the streets right here where you are and we fought for clean air so you see blue sky today," she said to a round of applause. "When people stand together and demand justice and demand action, we can save the world, and we will."