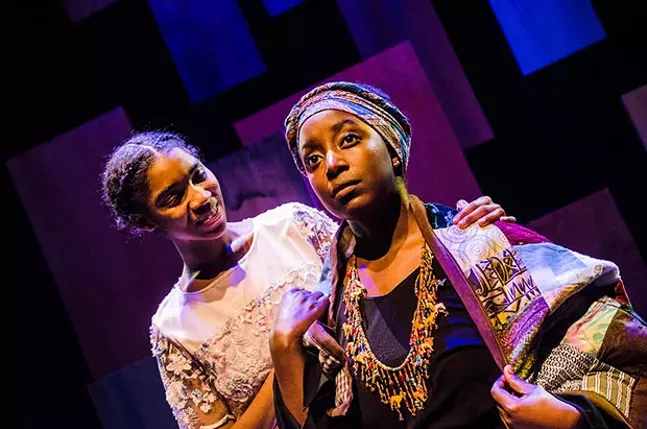 Having not read Maya Angelou's memoir I Know Why the Caged Bird Sings for many years, the humor and charisma of the stage performance surprised me. All of the disturbing storylines from the book are there on stage — racism, sexism, sexual abuse, the dreary loneliness of teenage life — but the acting, staging and delivery bring an unexpected levity and charm to the story. It's still upsetting at times, but there's a lot more going on in Prime Stage's production at New Hazlett Theater.
Caged Bird recounts Angelou's childhood in the 1930s and '40s, living with different relatives of varying degrees of kindness, cruelty and indifference. Most of the story takes place in her hometown of Stamps, Ark., living with her brother, Bailey (Malic Williams), Uncle Willie (Sam Lothard) and grandmother (Denise Sheffey-Powell), who goes by "Momma." An adult Angelou (Linda Kanyarusoke) narrates the goings-on on stage, but young Maya (a stellar Kendall Arin Claxton) bears the burden of the most challenging scenes. It's a tough part, but she fills it deftly and empathetically, without going overboard on the sweetness of the character.
There are explosive, troubling moments throughout, but as you might expect from an autobiography, some of the most affecting moments are small, intimate and mundane. Playing with friends. Listening to the radio. Reading alone. This is a story about childhood, and it's these scenes when the naiveté, hope and humor of adolescence shine through.
According to the origin story behind Caged Bird, in 1968, Angelou's friend and mentor, James Baldwin, brought her to a dinner party at the home of cartoonist Jules Feiffer, where she captivated guests with stories of her childhood. The next day, Feiffer's wife called the publisher Robert Loomis to recommend he sign Angelou to a book deal. Angelou declined. Loomis responded, "It's just as well, because to write an autobiography as literature is just about impossible." Angelou accepted the tacit challenge, and Caged Bird was published in 1969.
As it happens, the "autobiography as literature" works on the stage as well as it does in the book. Most of the non-character narration is carried by the adult Maya, who sweeps in and out of scenes and can often be seen in the background laughing, cringing and grimacing at the events at center stage. But the characters also break out of dialogue to narrate, creating an engaging ensemble of storytellers delivering Angelou's lyrical prose. It's a clever and innovative way to bring a difficult story to life, and director Monteze Freeman deserves credit.
And like I said, it's pretty funny too.