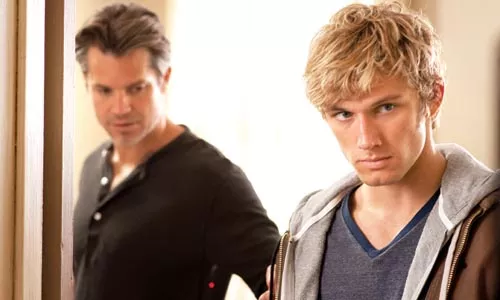 John (Alex Pettyfer) seems like a normal human teen, but he's actually from Lorien, hiding out on Earth to escape the Mogadorian invaders that wiped out everybody on his home planet. Ten Lorien kids escaped -- three have been killed, and now John is No. 4 on the hit list.
His latest refuge is a dinky town in Ohio (locations around Pittsburgh were used), where he chafes – with typical adolescence contrariness – under the protective care of his minder/bodyguard, Henri (Timothy Olyphant). Henri cautions John to go quietly about his life, lest they be discovered by the alien Mogadorians hunting them. But seriously: How could kids at a small-town high school fail to notice a new dude this good looking? Sure enough, he's almost immediately hassled by the jocks; flirted with by an arty A-list girl (Dianna Agron); and befriended by the school nerd (Callan McAuliffe).
D.J. Caruso's (Disturbia) thriller is aimed more at teens than adults, but it was enjoyable enough. While not exactly subtle, I liked the film's riff on how teens -- especially those who bounce around or have chaotic domestic lives -- can feel alienated. That said, most miseries of adolescence can't be fixed with supernatural powers John has; on the other hand, most of us survived high school without little thought to being vaporized by an eight-foot-tall dude from a rival planet.
The ending is an expected round of dizzying high-action battles, and introduces a new character and wrinkle with little preamble. But as a consolation, I Am Number Four suggests that film featuring other numbers may soon follow. In English, and some Mogadorian, with subtitles. (Al Hoff)