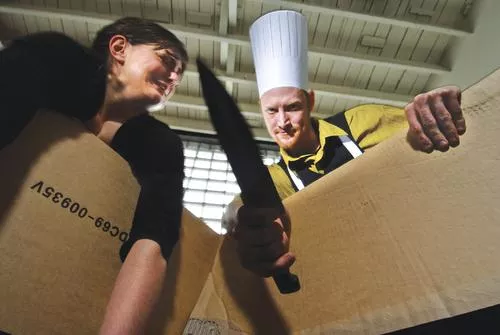 Probably the best way to describe Peter Sinn Nachtrieb's Hunter Gatherers (receiving its Pittsburgh premiere thanks to Bricolage) is to say it's Who's Afraid of Virginia Woolf for the reality-show generation. Two married couples get together for one meal, and after an evening of confession, revelation and confrontation ... well, a definite winner emerges.
Nachtrieb believes humanity can be divided in half: Hunters are explosive forces of nature in search of instant, and constant, gratification. Gatherers, subdued and secretive, understand the long view and the needs of the greater good. Richard and Wendy are the hunters (the play opens with Richard killing a lamb for the evening's meal), while Pam and Tom are their long-suffering gatherer spouses.
In a lot of ways, to return to the Virginia Woolf metaphor, the evening plays out as if George had married Honey and Martha had married Nick. Between the naked aggression of Richard and Wendy, and the passive aggression of Pam and Tom, this annual dinner turns out to have irrevocable consequences. The hunters, without really thinking about it, seek to obliterate the gatherers, who, through stamina and native intelligence, can't be counted out in any conflict.
It's a hootin', hollerin' play with the sudden painful shocks of an abscessed tooth. Jeffrey Carpenter, who directs this Bricolage production, meets Nachtrieb head-on and, in fact, raises the dramatic stakes higher. Perhaps, it might even be said, a little too high -- the production begins at such a ferocious level there's very little room to maneuver emotionally. With all that unwavering intensity, I felt a bit weary toward the end ... but, to tell you the truth, the last 10 minutes is little price to pay for the great work Carpenter has put into the preceding 80.
Nachtrieb has written a scorchingly funny script, and Carpenter expertly sets up each and every joke, which his cast never fails to explode. The supernova qualities of Jonathan Visser and Amy Landis as Richard and Wendy are expertly balanced by the sly and quietly evil turns of Tressa Glover and Michael Fuller as Pam and Tom.
And it's doubtful you'll ever want to eat lamb again.
HUNTER GATHERERS continues through May 7. 937 Liberty Ave., Downtown. 412-381-6999 or www.webbricolage.org