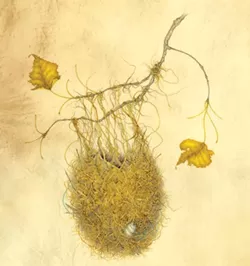 Each spring, the natural world of Pittsburgh transforms itself from a barren, frigid wasteland into a lush, verdant ... maybe not quite paradise, but something still pretty spectacular. The landscape's beauty is pleasing not only for its aesthetics, but also for the feeling of renewal, and fulfillment of the promise of growth. The Hunt Institute for Botanical Documentation was timely with its March opening of Elements, an exhibition that captures on paper birds' nests, in watercolor and pencil, and, in photographs, the trees that often house them, particularly in the woodlands of Frick Park. 
Watercolors by Minnesota artist Wendy Brockman celebrate the nest as a seemingly fragile but remarkably resilient home, a safe, nurturing haven of peace and comfort. Indiana's David Morrison precisely showcases nests' structural form in photo-realistic pencil drawings breathtaking in their execution. Kate Nessler, of Arkansas, deconstructs the nest into bits and pieces, revealing the parts that form the whole. And context and dimension are imparted by Pittsburgh artist Sue Abramson's photo documentation of the forest literally in our own backyard. 
The 35 works in the collection are supplemented by the Carnegie Museum of Natural History, which exhibits birds, eggs and nests that are quite lovely until you realize that you are looking at what used to be real live birds that flew in the sky but are now real dead birds that are stuffed and inside a glass-topped case. After that, they are still lovely, but additionally a little creepy. 
A nest is a simple object, commonplace, one we take for granted. And why not? They're all around us, sometimes in progress, sometimes in use, sometimes abandoned or destroyed. But they're also complex architectural marvels, built one piece at a time. While the works in Elements are undeniably visually pleasing, they go further, stirring something more primal than an appreciation of beauty. Nests are created from the need for shelter, safety, a place to raise one's young — the need for home. That need connects humans not only to each other, but to other living things as well. Each separate piece within this exhibition is lovely in its own right, but as a collection they're a powerful representation of life, home and family.