More than 300 people gathered in Downtown Pittsburgh around the City-County Building Christmas tree on Tuesday evening, rallying in support of the impeachment of President
Donald Trump
.
Rally-goers began gathering along the steps and sidewalks of the building as early as 5 p.m., carrying with them various signs reading things like "Dump Trump, Ditch Mitch" and "Impeach and Remove."
The rally was titled "No One is Above the Law" and was organized by Indivisible Pittsburgh and the Women's March on Washington - Pittsburgh. The event began at 5:30 p.m. and was one of nearly 550 events happening nationwide. It was also one of two taking place in the Greater Pittsburgh Area — the second being held in Mt. Lebanon, which reportedly gathered about 400 people.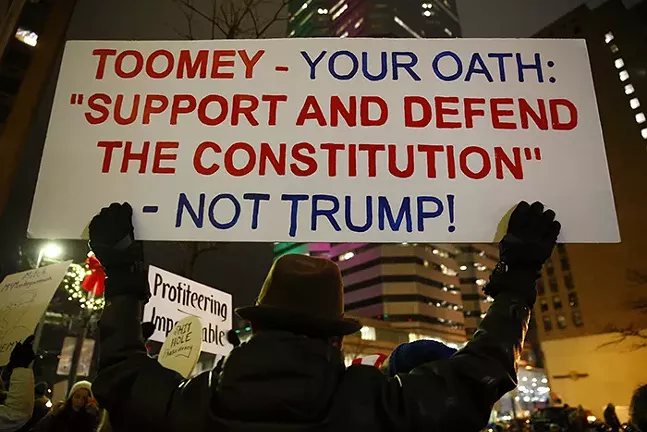 All told, more than 700 people rallied tonight in Allegheny County in favor of impeaching the president.
While waiting for the speakers to begin, the crowd outside of the City-County Building began chanting, "Hey hey, ho ho, Donald Trump has got to go." Over the crowd, cars and passersby could be heard honking and cheering as they drove by the lines of protesters on both sides of the 400 block of Grant Street.
Tracy Baton, director of the Women's March on Washington - Pittsburgh and contributing organizer for Tuesday's rally, provided opening remarks and led a chant of "tell me what democracy looks like," with people in the crowd quickly calling back "this is what democracy looks like."
Mike and Beth Berrigan, of Robinson Township, attended Tuesday's rally, bringing with them a sign reading "Veterans for Impeachment." Both Mike and Beth, now retired, served as lawyers for 20 years, each with the Army Judge Advocate General Corps and spent another 10 years each as senior civilian attorneys.
"From our way of thinking, it's vital, for the rule of law to be served, that this impeachment takes place," said Mike.
"We must reduce to writing, for history's sake, the violations this person has committed while in the highest office," said Beth. "This is about accountability, responsibility, and the rule of law."
Lisa Middleman
, who recently ran unsuccessfully for Allegheny County District Attorney, spoke to the crowd and began by quoting President Theodore Roosevelt. "No man is above the law and no one is below it; nor do we ask any man's permission when we ask him to obey it," said Middleman.
"We've ended up with a president who thinks he is above the laws," Middleman said. "We are here to demand the people who represent us act like they are the statesmen they are supposed to be. There is a reason 'We The People' are the very first words in the Constitution. We have waited for far too long. We are done waiting. We are asking the politicians that repeatedly betray us be removed."
In September, Democratic House Leadership
announced an impeachment inquiry
would begin, which came soon after a whistleblower complaint was released, alleging that Trump pressured Ukrainian officials to undermine Democratic presidential candidate and former Vice President Joe Biden. The Trump administration has since released a partial transcript of a phone call with the Ukrainian president, where Trump asks the president for a favor shortly after discussing the hundreds of millions of dollars the U.S. provides to Ukraine in military aid.
Both Allegheny County congressional representatives, Mike Doyle (D-Forest Hills) and
Conor Lamb
(D-Mt. Lebanon), have announced their intention to vote for both articles of impeachment against Trump. The
Associate Press
reports that a majority of House Members support impeachment and that the vote will be held on Wednesday.
Earlier today, Trump sent a six-page letter to House Speaker Nancy Pelosi (D-Calif.) criticizing Democrats efforts to impeach him, claiming that "more due process was afforded to those accused in the Salem Witch Trial" and "No intelligent person believes what [Pelosi is] saying."
A poll released today from
ABC News and the Washington Post
shows that 49% of Americans says Trump should be impeached and removed from office, versus 46% who say he shouldn't. And 55% say the House hearings were fair to Trump.
Republicans in Congress have been united against impeachment. Two Western Pennsylvania representatives, Mike Kelly (R-Butler) and Glenn "
G.T." Thompson (R-Centre),
blamed the push for impeachment on socialism
.
If the votes hold on Wednesday, an impeachment trial will be held in the U.S. Senate and then Senators will vote on whether to remove Trump from office.
According to the poll, 71% of Americans say Trump should allow top aides to testify at a Senate trial. A
November poll
from Mulhenberg College and the
Morning Call
shows that 49% of Pennsylvania voters say Trump should be impeached, and 48% say he shouldn't be impeached.
---
Pittsburgh City Paper
Senior Writer Ryan Deto contributed to this report.