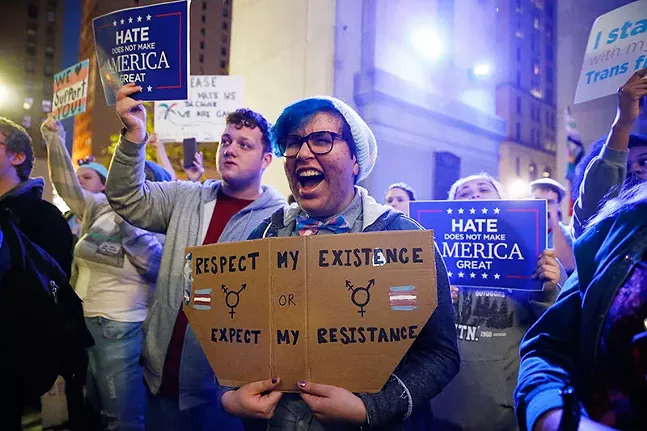 On Nov. 1, light blue and pink hues fell on hundreds of people inside the portico of the City-County Building in Downtown Pittsburgh. Those soft lights reflected of a giant Transgender Pride Flag, reflecting on the light blue and pink stripes that make up the flag.
The large crowd gathered to protest the news that President Donald Trump's administration is considering narrowly defining gender for federal programs, which would strip away some civil-rights and health-care protections for trans individuals.
Coley Alston, of TransPride Pittsburgh, spoke out against this attempt.
"I am queer, trans and non-binary, unapologetically, and I will not be erased," said Alston.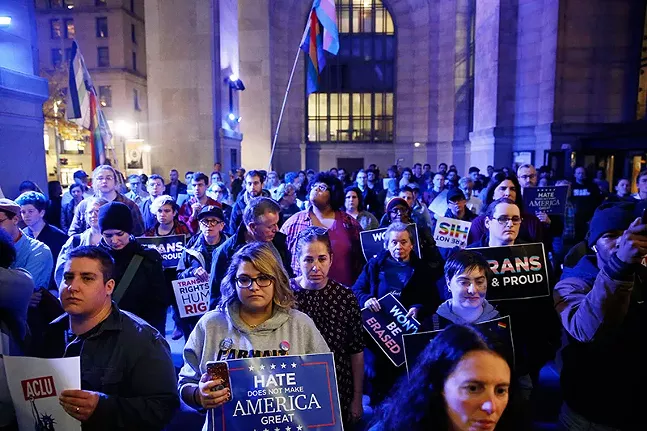 The rally came just a few days after the mass shooting that took 11 lives at the Tree of Life synagogue in Squirrel Hill. Pittsburgh City Councilor Erika Strassburger represents the district where the shooting occurred and she told the crowd that even a tragedy of that magnitude can be a powerful, uniting force.
"I have seen more unity in our city in the past few days than ever before," said Strassburger. "People are crossing geographic and invisible barriers to support one another during this difficult time."
Strassburger said this unity shouldn't fade after the grief subsides. She said the violence against the Jewish community is rooted in the same bigotry that results in violence against other marginalized groups, like LGBTQ people, and especially trans individuals and trans people of color.
"Until we realize the intersectionality of all of our battles, we will never win," said Strassburger. "Trans rights are human rights."
The rally was the collaborative work of 16 different organizations, including the Women's March on Washington - Pittsburgh, TransPride Pittsburgh, Trans YOUniting, the Delta Foundation of Pittsburgh, and the newly formed Transgender Task Force of Pennsylvania. The lead organizer was Dena Stanley, a black trans woman and local advocate.
Rosemary Ketchum of the ACLU of West Virginia spoke at the rally said the Trump administration has been emboldening the "most hateful people in our society." But she added that this was why LGBTQ individuals must live openly and proudly because "this is exactly what scares them."
"And when the bigots are scared, we know we are doing something right."
Ketchum was encouraged by the gathering and said she believes in the "collective power of the LGBT people and our ability to activate change."
Tracy Baton, the director of the Women's March Pittsburgh, added that power of the rally will be more powerful if people vote, and convince others to vote, for politicians who support trans rights.
"I want each to have hard conversations with ten lazy mofos and then drag them to the polls," said Baton.