A funeral for three of the five victims in the
Wilkinsburg shootings
called for an end to the violence and a new peaceful movement in the borough just east of Pittsburgh. The obituaries of Jerry Shelton, Brittany Powell and Chanetta Powell all relayed the same message: "This type of violence needs to stop, and let's all walk in peace."
These three victims, their sister Tina Shelton and their friend Shada Mahone were all shot by some
50 rounds of ammunition
by two shooters during a cookout on an unseasonably warm evening on March 9. Chanetta Powell was also eight months pregnant at the time of her death; the child also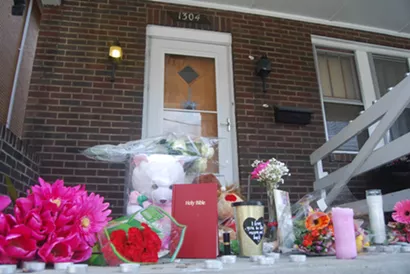 did not survive the shooting. According the her obituary handed out at the funeral, his name was going to be Demetrius. <!——EndFragment——>
<!——StartFragment——>More than 200 people gathered to pay respects to the three victims at the Lighthouse Cathedral in Pittsburgh's St. Clair neighborhood. Reverend Maurice Trent of Lighthouse delivered the eulogy and was overtaken by the tragedy.
"What do you say to a family when they have lost so much?" said Trent. "It is part of the natural process to weep when we lose somebody, but joy comes in the morning. It might not be tomorrow, but everyone will eventually have that morning."
Later in his speech Trent called for community action in response to the tragic deaths. "We as a community can do something about these senseless killings that have plagued our community," he said. "No longer can we be a blind, deaf and dumb community. We will no longer turn a blind eye to what we see and hear."
Trent called for the community to speak up, so that those who commit crimes like these are held accountable. He said he was pleased to hear about how so many people picked up the phone to give information to the police. (
City Paper
reported how some
people were claiming the detectives were not following up
with them, even though they said they had valuable information.)
Support from all over poured into the ceremony. More than a dozen condolences were sent to the funeral, including letters from the Mt. Zion Baptist Church in West Newton, Pa. and from Pittsburgh Steelers owner Art Rooney.
Shelton's father Michael Walker spoke in front of the crowd while holding the hand of his young grandson. He celebrated his son's life and said "he was a better man than me." Walker also spoke highly of the Powell sisters, and said he loved Brittany and Chanetta and they will "always be a part of me."
No new information has been released regarding the identity or capture of the suspected shooters.<!——EndFragment——>