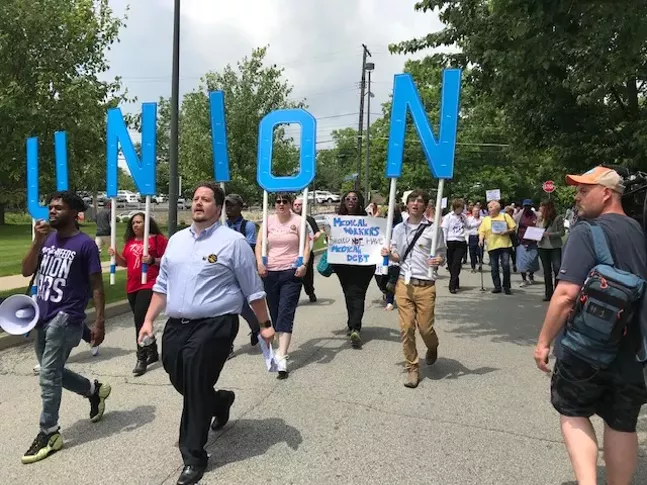 The annual UPMC board meeting took place on Tue., May 28, gathering many from around the region at UPMC Montefiore in Oakland to learn about the health-care giant's progress from last year.
But a group of more than 200 wanted their voice to be heard as well, and they marched to UPMC Montefiore to speak at the public board meeting. The group included elected officials, labor leaders, Pittsburgh residents, and some UPMC workers who were
striking today
. They all met at the corner of Terrace and Darragh streets in Oakland.
Christoria Hughes spoke to the crowd and said she was motivated to strike because of the large discrepancy in her and her co-workers' pay compared to UPMC president
Jeffrey Romoff
.
"Why is Romoff paying himself $8 million and I can't even afford to pay my bills?" said Hughes.
Hughes said she has worked at UPMC Presbyterian for 10 years and recently got a pay raise to just over $15 an hour. She said that even at that wage, she struggles with paying off expensive medical costs. UPMC employees are forced to carry UPMC health insurance, and some of them say they are going into
medical debt
because of high premiums.
"We are being taxed by our work, by our health, and by our care," said Hughes.
Politicians also joined the workers in calling for changes at UPMC. Pennsylvania Attorney General
Josh Shapiro sued UPMC
, alleging the nonprofit was violating its charitable purpose by acting too much like a business and not enough like a nonprofit.
Lt. Gov.
John Fetterman
(D-Braddock) spoke at the rally and said he was confident that when the state Supreme Court hears Shapiro's case tomorrow, they will side with the attorney general. He said UPMC management should allow its workers to form a union.
Eventually the crowd marched down to UPMC Montefiore and tried to enter the room where the board meeting was taking place. UPMC officials only allowed a select few to enter and speak at the meeting.
Allegheny County Controller Chelsa Wagner and State Reps.
Summer Lee
(D-Swissvale) and Sara Innamorato (D-Lawrenceville) were among those allowed to enter and eventually given a chance to address the board.
It is clear that the real concerns of patients and workers are not being taken seriously by "charity" UPMC. Here are my remarks after attending today's UPMC Presbyterian-Shadyside Board Meeting. pic.twitter.com/QVn18oBO54

— Controller Wagner (@AC_Controller) May 28, 2019
They spoke about the problems workers were having struggling with medical payments and asked for UPMC to cancel its employees' medical debt and allow them to form a union.