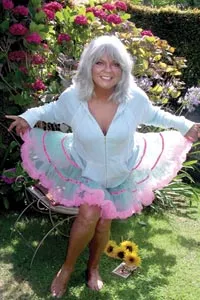 An art dealer from England named Ira Gale caught a performance of Pork at LaMaMa and made arrangements with Andy [Warhol] and Tony [Ingrassia] to bring it to the Roundhouse in London for the summer, with plans to move it to the West End after that. [See City Paper's Q&A with Cherry Vanilla.] But none of them, it seemed, were happy with Cleve Roller in the part of Amanda Pork. So when Tony suggested me for the role in the new production [...] Andy asked him to bring me up to the Factory for an audition.
I was excited beyond belief on that early June afternoon. Being recognized as an actress by Andy Warhol was huge and anointing, the chance of a lifetime. It meant that you yourself were art in some way, as precious as any of Andy's soup cans, Brillo boxes, dollar bills or cows. But this was the lead role I was trying out for, with tons of dialogue, and I really didn't know if I could pull it off. Auditions made me nervous, and my stage experience was limited to a handful of school plays, Miss Betty's dance recitals, and World.
Tony coached me on a few scenes before taking me up to the Factory. But to my surprise, Andy never even asked me to do any lines from the play. Instead he enthusiastically engaged me in conversation, mostly about TV commercials and Madison Avenue and then asked me to sing my favorite hymn from Catholic school. He really caught me off guard with that request. But by the time I finished the verse of "Dear Lady of Fatima" (off-key, but earnestly and with a rousing repeat line at the end), he joyously applauded me and gave me the part.
Reprinted with permission from Lick Me: How I Became Cherry Vanilla. Text copyright 2010 Chicago Review Press. Published by Chicago Review Press (distributed by IPG).