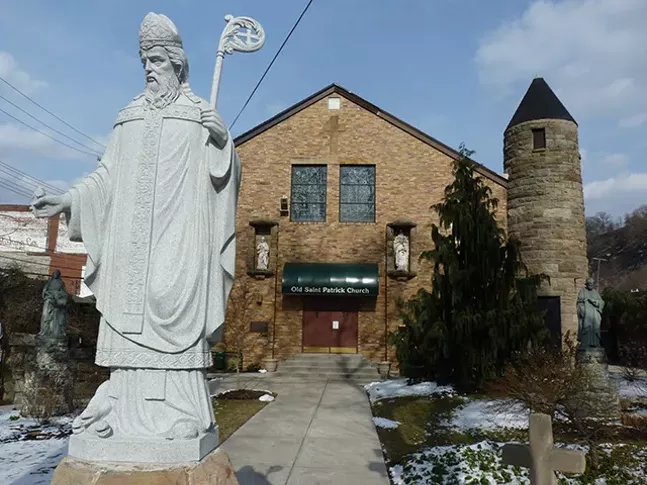 This week, in honor of St. Patrick's Day, Pittsburgh Penguins fans can treat themselves to German-style American beer in a cup emblazoned with shamrocks and a penguin dressed as a leprechaun. Let's be honest, it's not the best way to celebrate the region's Irish heritage.
Luckily, Pittsburgh has plenty of relatively easy ways to celebrate being Irish, all while avoiding stereotypes and mass marketing. The Pittsburgh region is filled with Irish descendants. According to 2017 census figures, more than 470,000 people in the Pittsburgh region report Irish or Scots-Irish ancestry, second only to German.
Carlow University professor Peter Gilmore teaches a course on Irish-American history and has written on Irish immigrants in Western Pennsylvania. He says the Irish had a profound influence on Pittsburgh's religion, politics, and labor rights.
Take the region's home rule charters. The concept of home rule, which empowers constituents to self-govern, first gained popularity in Ireland as a way to combat their British colonizers. In the mid- to late-1800s, Gilmore says the "home rule movement was the big movement in Ireland" and the Irish living in the U.S. had "conscious identification with solidarity with the Irish movement." In 1922, the Pennsylvania Constitution was amended to allow the legislature to grant municipalities home rule.
Obviously reading Allegheny County's home rule charter isn't an ideal way to spend a holiday, so here are some of Gilmore's recommendations on where to learn and honor Pittsburgh's specific Irish history.
Mingo Creek Presbyterian Church
561 Mingo Church Road, Finleyville
One of the first times Irish immigrants started recognizing their political power was the Whiskey Rebellion, an uprising that occurred in Southwestern Pennsylvania over opposition to a tax on whiskey. Many Presbyterian Irish from the Ulster region, aka Scotch-Irish, produced whiskey on their farms and hated the tax.
Gilmore says whiskey was a huge part of early Irish immigrants' lives.
"Everybody who was Irish drank whiskey, though Presbyterian people look at me weird when I tell them that they drank whiskey morning, noon, and night," says Gilmore.
As a result of the tax, Irish-Americans started supporting Thomas Jefferson, who won the Western Pennsylvania delegation of the Electoral College, narrowly winning the presidency of 1800. Jefferson then repealed the tax.
The Mingo Creek church in Washington County is described as the cradle of the Whiskey Rebellion, where Scots-Irish farmers organized protests against the tax. Several rebels who died in skirmishes over the tax are buried in the adjoining cemetery.
St. Patrick's Church
1711 Liberty Ave., Strip District
Catholicism in Pittsburgh started with Irish Catholics. St. Patrick's Church in the Strip District was the city's first Catholic denomination, starting in 1808. Gilmore says Irish Catholics immigrated to Pittsburgh to finish work on the Pennsylvania Canal, which went directly past St. Patrick's Church.
"It was not just convenient for those working on the canal, but it made it easy to get there," says Gilmore.

A church stands in the same spot today, and allegedly there is a chunk of the famed Blarney Stone somewhere in its mast. A quaint courtyard is attached to the church, complete with a statue of St. Patrick.
Carlow University
3333 Fifth Ave., Oakland

Irish immigrants also had a substantial humanitarian presence in early Pittsburgh. Gilmore says the Sisters of Mercy arrived in Pittsburgh in 1843 to teach and minister to the recent influx of poor Irish immigrants.
Their efforts ramped up in the creation of Mercy Hospital and Our Lady of Mercy Academy. The academy eventually became Mount Mercy College in 1929, until it was renamed Carlow College in 1969, then Carlow University later on. The Sisters of Mercy originally came to Pittsburgh from County Carlow, Ireland.
Gilmore says St. Patrick's Day revelers can honor the work of the Sisters of Mercy by visiting a statue of Frances Warde, one of the original sisters. The statue is located in the Hospitality Garden near Antonian Hall.
Homestead Pump House
880 E. Waterfront Ave., Muhall
According the Gilmore, early Irish immigrants were a big part of Pittsburgh's labor movement. He says most of the leadership of the famous Homestead Strike, generally considered a watershed moment for Pittsburgh labor rights, was Irish.
At the preserved Pump House, which sits at the location of the old steel mill site, people can learn about union leader Hugh O'Donnell and former Homestead burgess and steelworker John McLuckie.
—-

Gilmore says Pittsburgh's Irish history tells a compelling story of how immigrants organized through labor, religion, and politics to shape what Pittsburgh is today, while facing vehement anti-Irish sentiments.

So, if you really want to celebrate being Irish in Pittsburgh: organize labor and grassroots movements at churches that build enough political power to combat anti-immigrant hysteria.