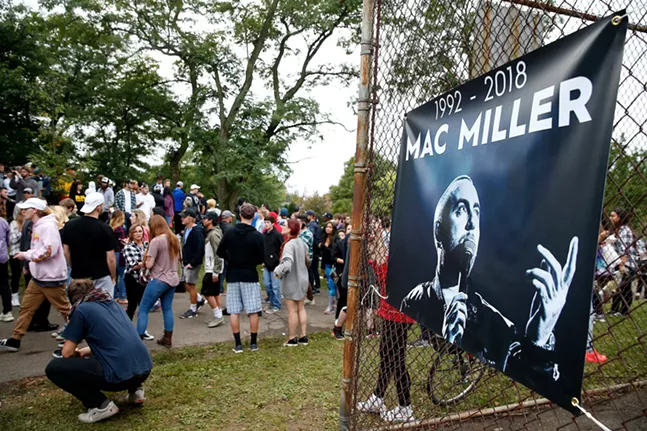 On Sept. 7, 2018, prolific musician and Pittsburgh native Mac Miller
died of a drug overdose
. The news of his passing
profoundly affected his fans
and the local community, as Miller never forgot about his hometown, packing his songs with references from the city and tattooing himself with Pittsburgh logos - forging a deep connection with his listeners. Four days later, Miller fans from far and wide traveled to
Blue Slide Park
to
remember and honor
the musician. The same will happen this year, on Fri., Sept. 6, in addition to a performance from ClockworkDJ at The Spot Etc. on Saturday, the one-year anniversary of Miller's death. Those events and more will be taking place this weekend to honor the late musician. Find out how to celebrate Miller below.
Blue Slide Park Memorial
. Fri., Sept. 6. 4-9 p.m. Blue Slide Park, 2005 Beechwood Blvd., Squirrel Hill.

The location of the first Miller vigil and namesake of his debut studio album, Miller often rapped about childhood memories in this area of Frick Park. Yesterday,
Pittsburgh Public Works applied a fresh coat of blue paint to the iconic slide.


Longtime friend and DJ of Miller, ClockworkDJ is partnering with Philadephia-based independent hip-hop label Chinga Chang Records to raise money for the
Mac Miller Fund
, which supports programming, resources, and opportunities in the arts for underprivileged youth. The hope is that this will be the first of an
annual benefit/celebration
of Miller's music and life. ClockworkDJ is set to perform alongside DJ Schizo and there will be an incantation by Rabbi Yisroel Altein of Chabbad Pittsburgh.
Donations are strongly encouraged. For every $1 donated by attendees, Chinga Chang will donate $19.92, Miller's birth year.
Mac Miller Monday Memorial
. Mon., Sept. 9. 8-11 p.m. Bonfire Food & Drink. 2100 East Carson St., South Side.

Each Monday at Bonfire, the South Side restaurant employees listen to Mac Miller while munching on mac and cheese and on Mon., Sept. 9, they would like fans to join in on their cheesy festivities. Along with the food, there will be a Mac Miller pop-up bar and Miller's music played by DJ Teddy T.
"We are huge fans of his music and believe he was a Pittsburgh treasure," reads the Facebook event page.
"It's a sad realization that on September 7, it will mark an entire year that he has been gone. So we would like people to get together on Mac Monday, September 9."
A portion of the proceeds will go to the Mac Miller Fund.
Other ways to honor Miller's memory:
Visit the new Mac Miller Mural in East Liberty.
Earlier this week, the MLK Mural Project, which Miller was an alumnus of, painted a mural at 250 Paulson Ave, in tribute of the late musician.
Stop by Daily Bread in Bloomfield.
The streetwear apparel store was founded in 2009 by Bill Niels of Miller's Most Dope crew.
Welcoming all Mac fans that'll be in town to stop past the shop and say what's up! Let's keep the memories and music alive. 🙏

— Daily Bread (@dailybreadpa) September 6, 2019