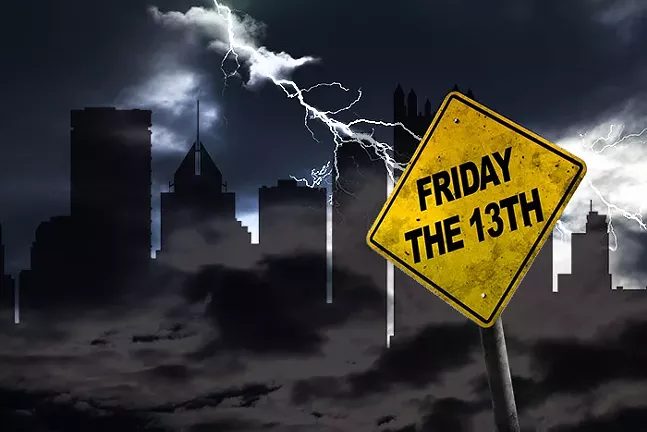 Only once or twice a year does the 13th day of the month fall on a Friday, but when it does, you can be sure there are people celebrating the spooky day. To help map out your day,
City Paper
has compiled a round-up of the spookiest concerts, tattoo events, and parties on this haunting day.
Tattoos
Flash tattoos and piercings at Pittsburgh Tattoo Co.
Bonus: vote on which tattoo CP staffer Blake Lewis gets on Friday in this
poll
. Full list of designs available
here
.
12-7 p.m. 103 Smithfield St., Downtown. $40 tattoos and $20 select piercings. Walk-ins only.
tattoo-pittsburgh.com
Flash tattoos at Gypsy Tattoo Parlor.
Full list of designs available
here
.
12-7 p.m. 4061 Penn Ave., Lawrenceville. $60-80. Walk-ins only.
gypsytattooparlor.com
Flash tattoos at Alter Ego Body Art Studio.
Full list of designs available
here
.
10 a.m.-10 p.m. 4136 Library Road, Dormont. $31 or
$66.
alteregobodyartstudio.com



Music
Bikini Islands, BRF, Ugly Blondes.
8 p.m. Howlers, 4509 Liberty Ave., Bloomfield. $10. howlerspittsburgh.com
Pocketful of Rain.
6:30 p.m. Bier's Pub, 900 Western Ave., North Side. bierspub.com
Miscellaneous
Nightmare on Forbes Street by Pop Up PGH grand opening.
4 p.m.-2 a.m. 268 Forbes Ave., Downtown. More info here.
Goth Party
hosted by D II v II n e A s c e n e s II o n
.
7 p.m.-2 a.m. 4031 Vinceton St., Perry North. $10 for those in goth outfits (black clothes, black makeup, witch attire, etc.) $15 for those dressed normal.
Looking at the full moon.
This isn't at any specific event or place, but a full moon on Friday the 13th is rare (technically, it starts at 12:33 a.m. on Sept. 14, but it still counts).