As many college graduates know, majors don't necessarily correlate to career paths or hobbies outside of school. But the members of Snowdonia, who all attend Pittsburgh CAPA, are making use of their majors beyond the classroom.
Currently juniors in high school, every member of the six-piece band, except one, majors in the instrument they play. Adam Peters plays guitar, Kaden Thompson plucks the bass, Atticus Crowley adds violin, Dinah DeVault is the flutist, and Desmond Rucker pounds the drums. Jake Epstein, who majors in theater, switches between vocals, guitar, and keyboard.
Snowdonia formed in 2016, and the then-four-member group went by Pittsburgh State of Mind. At that point, it was just something they did in their free time.
"We changed the name with the knowledge that we would be writing our own music," says Peters. "We wanted to have imagery behind it. But it took a while to find our sound because there's a lot of arrangement that has to go into it, which we all sort of help out on."
The change happened in August of 2017 after a number of lineup changes, and the inclusion of Crowley and DeVault, whose instruments shifted Snowdonia's sound. The band mixes a basic indie-rock sound with DeVault's flute and Crowley's violin, which is played through amps and pedals. That approach takes the instrument from classical to electric, catapulting Snowdonia into its own unique realm, a melding of jazz, funk, rock, and pop.
Crowley says that for him, "playing in school and playing in Snowdonia is very different. [All the members but Epstein] play in jazz band, so it's kind of the same music, but I'm in orchestra ensemble, and I'm on second violin because I'm not as far along on classical violin as I would like to think I am in the Snowdonia violin."
Attending a school where they can focus on music is a huge asset, allowing for a perspective to which other musicians may not have access.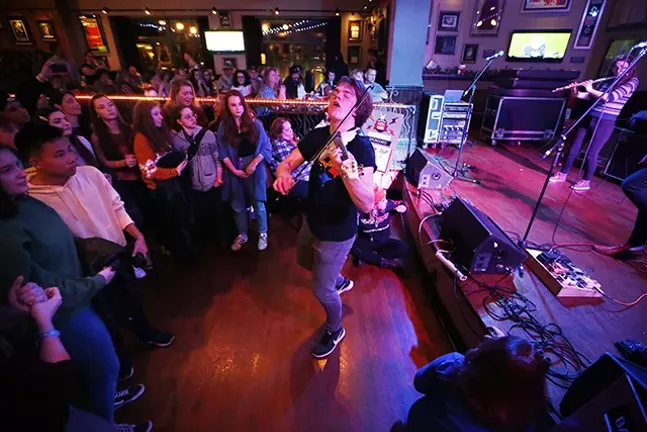 "I have a lot of teachers that I really respect," says Peters. "Especially Paul Thompson [jazz band teacher] and Richard Gibson [guitar instructor]. They really push me to write. A lot of times I'll write something and think, if I played this for Mr. Thompson or Mr. Gibson, would they be like, 'This sucks,' or would they be like, 'This is good.' So, it's a big help in a way."
One CAPA teacher, Abbie Gross, who also plays saxophone in The Commonheart, has a friend at Opus One Productions, and used her connection to help Snowdonia set up its Jan. 26 show at Mr. Smalls. Because the members are still in high school, Snowdonia has trouble finding all-ages venues to perform at in Pittsburgh. Many shows required guests to be 21 and over.
Another obstacle is that in exchange for stage time, some venues ask that bands sell a certain number of tickets to the event. Peters says that, even at a 15-ticket cap, they don't know that many people over 21.
"A lot of times people will email us for shows and stuff," says Crowley. "Like, 'Do you want to open for this band, do you want to play this show.' But if it's a 21 and over show, we can still play, but there are all these opportunities that we don't take because we can't bring any of our friends. And we have no one to sell tickets to. We can sell to our parents, but that's it."
A boost came when the group won People's Choice at the 2018 Battle of the Bands competition. One of the prizes is studio time at Red Caiman Studios, a perk the band plans on using to further hone its sound.
"Recording and mixing us is a whole different beast," says Peters. "That's why Battle of the Bands was such a big thing. We kind of need that studio time and professional eye to help guide us."