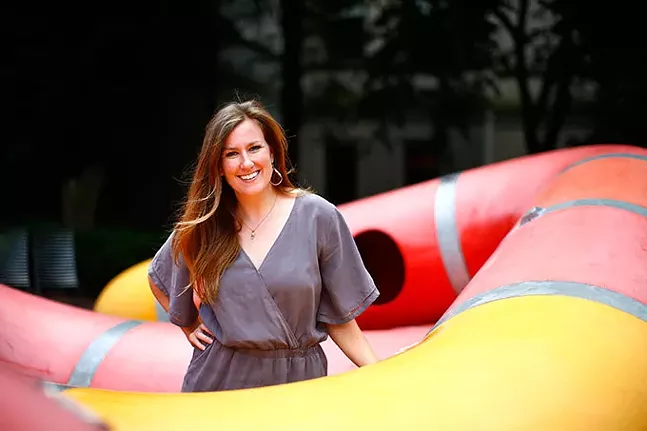 Name: Laura Zorch McDermit, Lawrenceville
Work: Manager of Social Engagement, Carnegie Museum of Art
What does your title mean?
Department of Fun. Department of One, Department of Fun. Basically, my position was created out of the desire to reach people who haven't been here in a long time or never before. It provides more social experiences, with elements of surprise, to get them through the door and say, "Hey, this museum is here for you." It can be very big events or very small things as well.
How does that translate to day-to-day work?

Coming up with ideas. Reaching out to collaborators, artists, performers. When I started, I was working a lot with our legal department. They were a little afraid: "We're gonna put an ice skating rink in the hall of sculpture!"... "What?" But then they come around.
I work with all of our central services — special events, catering, security. On the day of, lug everything around, walk 12 miles in the building, make sure everybody signs their waivers, get all the art supplies. And then the boring stuff, financial, paperwork, etc. It's probably more of the small background stuff than it is all the fun stuff.
Do you maintain an appreciation for the arts yourself or is it work?

I can't go to events. They make me nervous. I'm hyper-aware. I can still appreciate art and attend museums any time I can — not to scout, just to appreciate. I think that particularly when you're working in a field like this, it becomes so much your life.
How'd you get here?

I ran a blog called eatPGH that did a lot of events. My former boss here, Brad Stephenson, had eatPGH on a podcast where he would go out to lunch with people. I remember he advertised this job as, "We're looking for Andrew W.K.," someone who's going to be able to do all of these things, bridge these gaps doing crazy stuff. I said, "I think I could do that." It sounded like an interesting and fun challenge.
And it was?

I've been able to do some just absolutely insane things here; I'm so thankful for that. I don't think I would have been able to do [that] anywhere else.
Like what?

The first Third Thursday we partnered with BOOM Concepts to do a silent disco. Pittsburgh is bad at buying tickets in advance. We didn't even know if people were going to show up. We're planning this event and this is the first time and we don't even know what's gonna happen. And it was just magic. It was literal magic. Around 600 people showed up, dancing all over the museum. It happened! We're doing it, and it's wonderful!
I gave away a wedding. It was the sweetest thing that ever happened. People voted on the couple, and they were married here. Hundreds of people showed up to celebrate strangers; it was lovely.
We hosted a great fashion show two years ago at the Ace Hotel. We were able to do a call for local artists to design looks; what they came up with was so absolutely unreal. It was based off the idea of an exhibition of Iris van Herpin, technology and fashion, and it was incredible.
Those moments always reinforce, "OK, this was a good idea." Sometimes I'm sitting there, covered in paperwork, and my office needs to be burned down. Then the event happens and you're like, "Oh my gosh, this is incredible. This is why we're doing this."