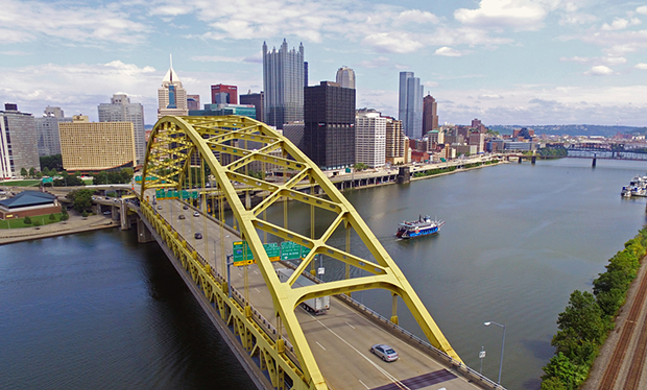 Remember the new-and-improved Death Star from
Star Wars: The Force Awakens
? It's called the Starkiller Base and it sucks up energy from nearby stars and then blasts that energy at nearby planets, obliterating them.
One could think about Pittsburgh and the recent Amazon HQ2 decision in a similar way, sans the obliterating.
University of Pittsburgh economist
Chris Briem
says Pittsburgh already has large migration flows to and from Washington, D.C. and New York City, the two selections for the split Amazon HQ2, the company's second headquarters.
In theory, this means the new Amazon headquarters could siphon off talented workers from a nearby city like Pittsburgh, only to blast that economic energy onto its new home. That could have an effect on Pittsburgh.
"Any large net new job growth in any of those two places is going to put pressure on the labor force in Pittsburgh," says Briem.
Between 2015-2016, 1,110 Pittsburghers moved to New York City and 1,289 New Yorkers moved to Pittsburgh. For Washington, D.C., 1,016 Pittsburghers move out and 997 Washingtonians moved in.
Briem says that "most migration is economic migration" and with a proposed 25,000 jobs going to each East Coast city, it could be very attractive for some Pittsburghers to move away.
Briem says this could result in a tighter labor market here, and local businesses might feel pressure to offer more to employees to keep them in Pittsburgh.
"If you need workers, you need to offer a competitive wage," says Briem. "People will have to be enticed to stay here. If you are foreseeing a labor shortage, it is only going to get worse."
And Pittsburgh is already projected to be short thousands of workers in the near future. A
2016 report
commissioned by the business coalition Allegheny Conference says the Pittsburgh region could be short 80,000 workers by 2025, due in large part to baby boomer retirements.
This might feel like good news for current working Pittsburghers in terms of increased wages. Though nationally unemployment has been shrinking for several years and wage increases
haven't followed at the same rate
.
Additionally, the HQ2 moves don't bode well for turning around Pittsburgh's decades-long population decline, since most people move into new regions to seek employment.
Basically, as Pittsburgh is looking to fill the thousands of jobs created from retirements, the nearby Amazon HQ2 cities could out-compete Pittsburgh in attracting migrating workers.
Tim Bartik of the W.E. Upjohn Institute for Employment Research says the HQ2 move to NYC and D.C. will "cause some relocation," but doesn't think the effects will be large.
Bartik is a bit more optimistic on cities like Pittsburgh. He doesn't think Pittsburgh
losing out on Amazon HQ2
is necessarily a foreboding sign.
"There is still room for job growth in medium-sized cities," says Bartik.
He thinks the future of Pittsburgh's economy lies in attracting small or medium-sized businesses. Pittsburgh and Allegheny County have attracted a good amount of small and midsize
tech companies and company headquarters
over the years, like Ford's Autonomous vehicle division, Argo AI, and the health-care company Philips.
"People need to realize that these big fish are not really part of the area's economic plan," says Bartik. "For Pittsburgh, how are the local businesses growing? How are small and medium businesses being attracted."
When asked if the push for Amazon was a distraction to courting other smaller businesses, Allegheny County Executive Rich Fitzgerald bristled.
"We do focus on those companies, in fact, we focus a lot on exactly [those mid-size companies]," said Fitzgerald at a Nov. 13 press conference. "That's why Pittsburgh is doing what it is doing. That is not to say that we can't walk and chew gum at the same time. We have not neglected in any way these other opportunities."
However, Fitzgerald also noted at the press conference that county staff was used to file legal challenges in order to keep Pittsburgh's Amazon's
bid
secret, and he admitted the proposal couldn't be recycled to attract other companies.
"We meet with companies all the time, and whatever their needs are, we try to tailor that to maximize the
amount
of jobs and opportunity," said Fitzgerald. "That is something we will continue to do, but I don't think we can take this bid and then move it over to the next proposal."
In the end, Bartik thinks Pittsburgh's best lesson from the Amazon sweepstakes is cities like Pittsburgh should stick with what has been working for them, and maybe avoid trying to lure large companies with incentives. Pennsylvania, for example, offered
$4.6 billion to entice Amazon
, even though the company chose NYC and D.C., who offered a combined $2.1 billion.
"They clearly didn't go to the places with the biggest incentives," says Bartik.