Wearing a Pittsburgh Penguins Sidney Crosby jersey, Pennsylvania 12th District delegate Mike McMullen hung around outside of the Quicken Loans Arena in Cleveland two weeks ago, watching a country-music band perform. McMullen was in town for the Republican National Convention.
"It's been a very tiring and eventful week. Speaker Paul Ryan spoke to our delegation on Monday to kick things off," McMullen said, pointing to his Terrible Towel that he said even Ryan waved. He says the delegates spent time talking about "party unity and about moving Pennsylvania into the red section for the first time since 1988."
About 400 miles east and a week later, Pennsylvania delegate Beth Ussery walked out of Room 118A of the Pennsylvania Convention Center in downtown Philadelphia during the Democratic National Convention. She had just left a labor-council meeting, where U.S. Sen. Elizabeth Warren and New York Gov. Andrew Cuomo had spoken to delegates.
"It was amazing," said Ussery, a Bernie Sanders supporter who runs the Burghers for Bernie group in Pittsburgh. "Warren just talked about the rampant income inequality, which is one of the major platform issues of Bernie Sanders."
Like the RNC, unity was a theme in Philly. On Ussery's DNC-credential lanyard, hanging over her "Bernie" shirt, was an additional piece of swag — a "Hillary" pin.
"I can't be nasty to my fellow Democrats," said Ussery, who now says she'll vote for Hillary Clinton in November. "We have a lunatic on the other side who is willing to do that all day on Twitter. … Do I like Hillary Clinton? Not especially, but I'm worried about the progressive agenda. Change takes time."
One week later, now that the balloons have fallen, the memes of Bill and Hillary Clinton have been created, Sanders supporters have taken their protest signs home, and Donald Trump has given his party another round of headaches, what's next for the Clinton and Trump general-election campaigns? In the coming months, their ground games in the battleground state of Pennsylvania will be a deciding factor.
Last Friday afternoon, after the DNC was on the books, the Clintons boarded a bus wrapped in blue, with "Stronger Together" in giant letters on the side, and began a three-day Rust Belt tour that included Harrisburg, Johnstown and Pittsburgh.
At her stop at the David L. Lawrence Convention Center on Saturday, Clinton stressed the economy and jobs, and called Pittsburgh a model of success after its industrial collapse. "This great American city has reinvented itself," she told the crowd.
As for Trump in Pennsylvania, he visited Mechanicsburg, a town just southwest of Harrisburg, this past Monday night.
"We're going to see a lot of these candidates," says Kristin Kanthak, a political-science professor at the University of Pittsburgh, whose expertise is American politics. "There aren't that many votes up for grabs in, say, Philly. But we have a lot of votes up for grabs [in Western Pennsylvania], because while Pittsburgh is Hillary territory, as you get further out, you get into deep Trump country."
Kanthak also argues that Western Pa. is going to be a popular stop because of its proximity to another key battleground — Ohio. (Florida is the other must-win.)
"Trump needs to run the table. It's simply how the math works out this year," Kanthak says. "He has to win Ohio, Pennsylvania and Florida, or he won't get enough votes. So we're going to get a lot of attention here."
As for raw numbers, as of July 25, there were about 917,000 more registered Democrats than Republicans among Pennsylvania's 7.2 million voters.
A Suffolk University poll conducted last week showed Clinton ahead of Trump by nine points in the state. But data-politics website fivethirtyeight.com calculated that Pennsylvania has moved 0.4 percentage points more Republican every four years for the last six presidential election cycles, and argues that it's surpassed other states to possibly become the "most winnable state for Republicans."
"I actually think Hillary Clinton has a chance to do better in Western Pennsylvania than the president did in '12," David Plouffe, former Obama campaign manager and senior adviser, said in a press briefing at the DNC. "Even in a scenario where Trump reaches some [large] goal, this is about actual votes, not percentages in fraudulent public polls. And there's not enough raw vote to overcome what she's going to walk out of this part of the state with."
Neither the Clinton nor Trump campaigns responded to City Paper's inquiries about how many workers they have on the ground in Pennsylvania. But while Clinton offices are visible across the state, including in Pittsburgh and Philadelphia, Republican party officials here have been widely quoted on Trump's lack of ground game.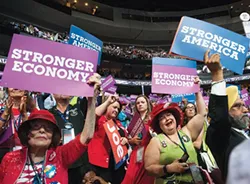 (Westmoreland County's Republican chairman was quoted in Politico at the end of June as saying, "The resources at our disposal are by far the worst I've ever seen in any campaign, at least in any presidential campaign." However, he prefaced that by describing the strong level of enthusiasm for Trump in his county.)
Meanwhile, high-ranking state Democrats are coming to bat for Clinton — Gov. Tom Wolf and U.S. Senate candidate Katie McGinty both spoke at the DNC. And local Democrats are busy campaigning for Clinton. Pittsburgh Mayor Bill Peduto and Allegheny County Executive Rich Fitzgerald, who both attended the DNC as pledged delegates for Clinton, appeared with the nominee in Pittsburgh at an April rally at Carnegie Mellon University. On Saturday, Braddock Mayor John Fetterman, former Sanders supporter, advocated strongly for Clinton.
"We need investments in transportation and infrastructure," Fitzgerald said this week by phone, "which she's talking about as a big part of her campaign."
At the DNC, both Peduto and Fitzgerald mentioned partnerships with the White House as key to receiving federal grants. Peduto mentioned money for pilot programs, like driverless-car technology and the social initiative My Brother's Keeper. Fitzgerald referenced TIGER — Transportation Investment Generating Economic Recovery — grants, like the $19 million recently awarded to a street-improvement project to connect Downtown to the Hill District.
"We have a good relationship with Hillary Clinton, and we have for a number of years," Fitzgerald told CP.