When it comes to directing animals, Michael Killen started with one of the world's most famous Chihuahuas — the "Yo Quiero Taco Bell?" dog from the fast-food giant's hugely successful ad campaign. While he served as an animator on that project, it led to a career that, over the past couple of decades, has included shoots with camels in South Africa, cows in New Zealand, and Longhorn steers in Texas, among others.

As co-founder of the Pittsburgh-based production company Animal Inc., Killen, who lives in the South Hills, continues to work with furry and feathered actors as a visual effects supervisor or director, mostly for commercials. He credits his experience with the Taco Bell campaign, as well as other early projects, for helping him develop techniques that would better enable him to work with animals on set.
"It comes down to a respect and patience with them," says Killen. "I know what atmosphere to create and what really works well for animals and what their limitations are. … I can look at a script and say, 'You're really asking the animal to do something they can't. … So maybe we change this a little bit.'"
His production skills and penchant for animals led to making
Downward Dog
, a locally-shot web series that went on to become a short-lived show on ABC. Besides co-creating, directing, producing, and writing the series, Killen also cast Sadie, his brother-in-law's dog, as the star.
"Sadie was just a dog that was really food-motivated," says Killen. "She loved bologna and cheese and treats, and so I was able to put Sadie in front of the camera and she was such a remarkable dog."
Due to her advanced age, however, Sadie had to be recast for the ABC series with a rescue out of Chicago named Ned. Still, Killen says she made a cameo in one episode before passing away not long after it was shot.
Because Pittsburgh lacks professionally trained, camera-ready animals, Killen sometimes has to source them from other states, mainly California, Florida, and New York. In one case, he brought in a team of trained squirrels to shoot a commercial for a real estate company.
While he has interacted with a variety of animals, he admits that some are easier to work with than others. Overall, he finds dogs very intelligent and eager to please, using Sadie as an example that even a dog without any formal training can work on a set. And then there are cats, which, despite their bad reputation, are surprisingly amenable.
"I've shot cats multiple times, they are much smarter than people give them credit for," says Killen, who also lives with four cats. "A well-trained cat is a well-trained cat and they do amazing things, but there are so few of them."
But, he says, any shoot with an animal requires a lot of preparation and cooperation between the trainers and the assistant director, who ensures that everything is conducted in a safe manner. There are also certain rules and regulations, which can vary from state to state and from animal to animal.
The safety of animals in movie and television production has come into question due to a number of incidents over the years, namely the death of several horses on the set of the now-cancelled HBO series Luck, and a leaked video of a German Shepherd being forced into a pool on the set of the 2017 film
A Dog's Purpose.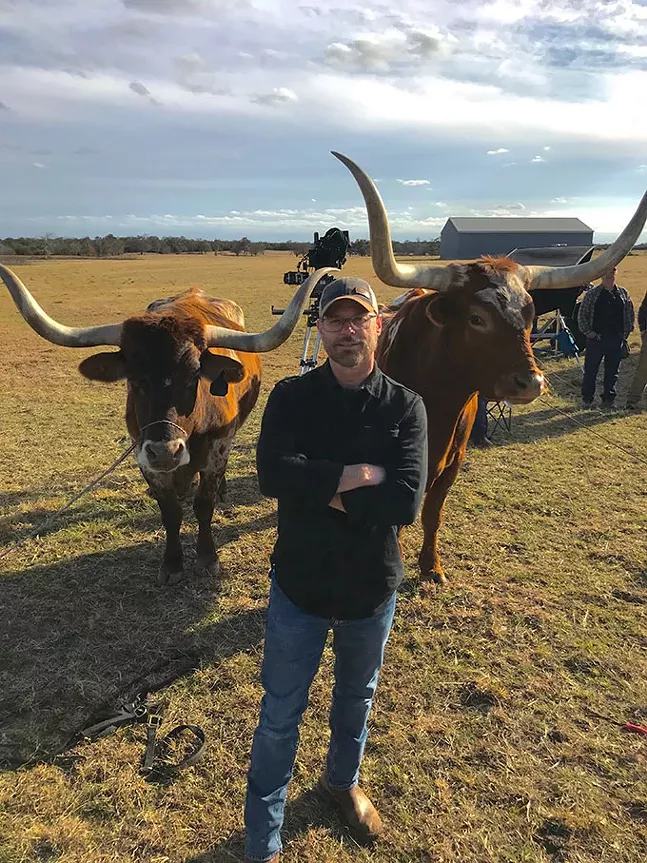 Despite these controversies, Killen believes that, with the right crew and trainers, shoots can be a pleasant, even fun experience for any animal. He also sees his role as extending beyond the set.
"I really want to be thoughtful," says Killen. "I don't want to just make the decision that I need [an animal] for these days and move on … It has to be something where I'm comfortable with knowing how the animal was brought to the set and why and how they're cared for."