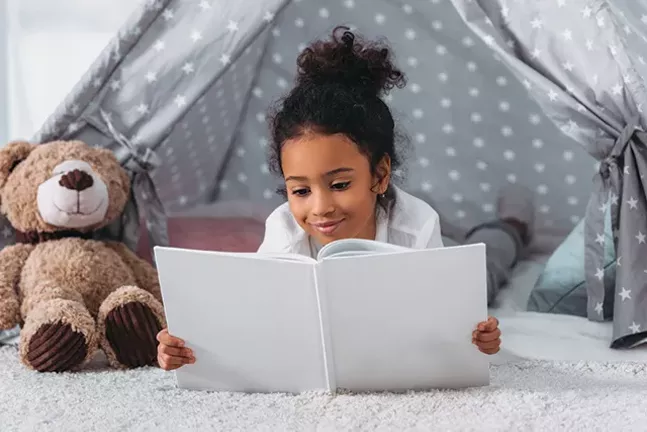 "Oh, Santa is coming, Santa is coming!!!!" A Christmas eve, decades ago, with my afro puffs a'bopping, missing tooth a'grinning.
I dreamily admired the tall festooned evergreen, battling for space with the equally large sculptures in my family's living room. Suddenly, the colorful holiday lights blinked, or was that my dad tapping the back of my head?
"Do you really think that some strange old man would just come down the chimney [we did not even have a chimney] and just give you presents?"
Yes.
In fact, I wanted to believe this very thing. I did believe.
"No, your mother and I work hard for this, we bought you these presents." I frowned, but only briefly — I realized as long as I got the loot, I didn't care how it got there.
Fairy tales were not a big part of my youth.
The typical fairy tale space of my childhood was primarily filled with folklore, mythology, and creativity of the Americas, Africa and the African-American experience. But also those of Europe and Asia. Women saved themselves — Ida B. Wells, Fanny Lou Hamer, Harriet Tubman — no knights in shining armor.
I've come to realize that adults rely on these stories more than children. Societies shape themselves into cauldrons of inequality when policy, history, investment/divestment, and culture is based on these fairy tales.
In Pittsburgh, we have the fairy tale of a Most Livable City. We talk about "A Tale of Two Cities" in front of one audience, and then turn around and say "Most Livable" to another.
"I mean look at all those lists we're on," we exclaim! "It cannot be that bad?! I'm sure they are exaggerating the issue." Oh, how many times have I heard this myself? Ignored, marginalized even further, disregarded. Get on board, wave that Black and Yellow.
Wave that Red, White, and Blue.
Some white women, believing in the fairy tale of protection and fully honored rights of citizenship, were disappointed by the election of the 45th president of the United States in 2016 and further deflated by the appointment of Supreme Court Justice "Kav-a-hell-nah" a couple weeks ago. "How could this happen?!" they exclaimed.
On Tuesday, Nov. 8, 2016, I was working as a voter protector, helping anyone who wanted to vote, vote.
Well past sunset, an elderly Black woman walked by, looked at me, and said, "Let me go in there and vote for this woman," she paused, shook her head. "At least let me do that." She was not an enthusiastic voter for Hillary Clinton but she wanted, in her words to "at least do that."
She did not have the luxury to believe in fairy tales.