Of all the things local artist Emily McGaughey depicts through her whimsical work, cats are one of her favorites.
"Oh, cats. Cats are my favorite things to draw. They're just so goofy, and even just a simple cat can look so funny," says McGaughey. "That's why my logo is a cat, and I have a lot of cat-themed products.
Her love of doodling faces on everyday objects and animals began when she was working full-time as a graphic designer. Now, McGaughey works full-time through her business,
Emily McGaughey Screen Printing and Illustration
. From cats to coffee cups to avocado toast, she has created a nearly endless collection of quirky, anthropomorphic pieces.
The Titusville, Pa. native now resides in Pittsburgh and produces magnets, pins, posters, stickers, and other small items. All of her art is made in her home, where she draws on an iPad then prints the designs.
"Everything except for my vinyl stickers, I fully produce myself from my house," says McGaughey. "When I draw [my designs] digitally, I can scale them to any size I want, then I have a printer and a tiny vinyl cutter that I use. I package everything myself too. I know people appreciate handmade things, so I try to keep my stuff as handmade as possible."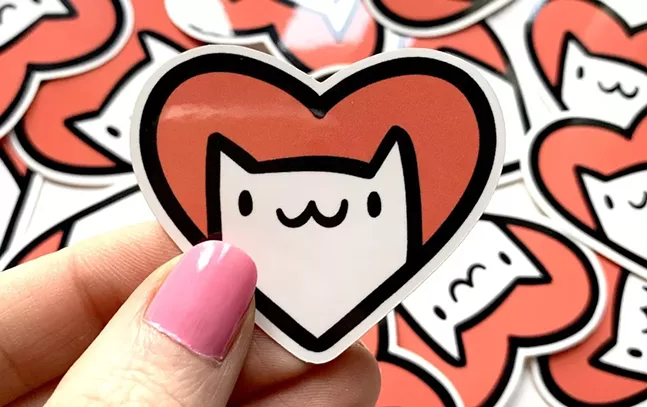 After graduating from Edinboro University of Pennsylvania in 2015 with a degree in graphic design and printmaking, McGaughey went on to work for
Wall-to-Wall Studios
. During that time she also ran her own business at night and on the weekends. After juggling both commitments for nearly two years, McGaughey considered becoming her own boss and committing to her own art, which she had been selling on Etsy.
She made the decision to become a full-time working artist in 2017 after being accepted into the
Three Rivers Arts Festival
. This decision was a risk, McGaughey says, but worth it.
Since then, McGaughey has been selling at the Three Rivers Arts Festival and the
Pittsburgh VegFest
, for which she also designed a poster featuring joyful produce and tofu squares. Shoppers can pick up a Pittsburgh Sticker Pack on
her Etsy shop
, which includes pierogies, ketchup bottles, bridges, and other local favorites.
In addition to the Pittsburgh-themed products, McGaughey also sells sticker packs paying homage to other cities such as New York, Philadelphia, and Chicago, all inspired by festivals she traveled to as a vendor.
Overall, McGaughey's goal as an artist is simple — to have fun and create art that makes people smile. She makes an effort to create products that appeal to a variety of tastes and prides herself in keeping her prices low, making her work accessible to people on a budget. Most of her sticker packs sell for $4 and magnet packs for $5, making it easier for customers to keep coming back.
"I think that's why they've been so successful so far," says McGaughey. "It's not a big commitment, and people are able to buy something as a small little gift. I really love seeing people's reactions when they find something they really love on a sticker, they get really excited. That's one of the best parts of doing all this."