A poster on the wall outside of Legends of the North Shore tells you all you need to know: "Best New Dining Spot." The quote is attributed to a Post-Gazette issue from 2003, but this old school Italian joint is still among the city's best restaurants in 2018.
How did this North Side restaurant maintain its standout status during an era of increasingly trendy food spots with increasingly inventive menus? Well, chef John Gault avoids flashier modern-restaurant trends.
"No one comes here and puts on airs," said Gault.
Legends succeeds for the reasons that newer, hipper restaurants don't. Most of its customers aren't posting pictures of their meals to Instagram. The menu doesn't include fusion of two popular cuisine styles. Nothing will shock customers.
But Gault says consistency of service, atmosphere and food at Legends is what keeps people coming back. The small dining room is adorned with posters of Pittsburgh sports stars. The tables are filled with loyal customers most nights. Friday and Saturday nights are consistently packed, with reservations typically required.
"The majority of the people that come here say, 'I wish more places were like this,'" said Gault.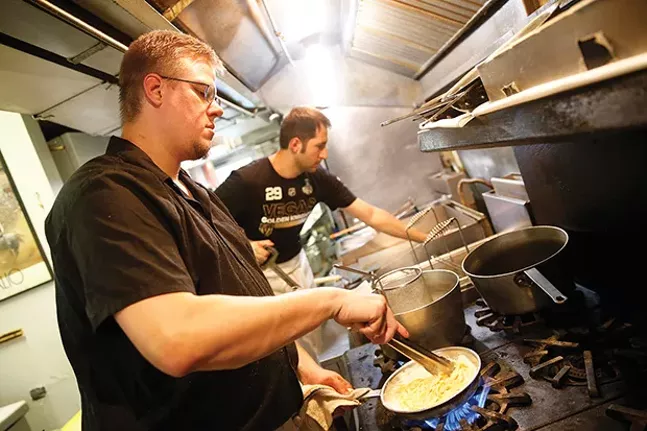 The Deutschtown section of North Side is in transition. In addition to welcoming one of the city's most exciting annual musical events (Deutschtown Music Festival), the neighborhood is seeing new development pop up next to longtime staples. Breweries and tea houses now share this neighborhood with dive bars and a German restaurant that is more than 100 years old.
Just a block away from Legends, new condos sit next to old row houses.
Even so, Legends remains popular with local North Siders and other Pittsburghers. Patricia Rooney, wife of the late Steelers owner Dan Rooney, still eats there twice a month. Gault says the new activity in Deutschtown has actually been a boon for Legends.
Italian-American classics are Legends' bread and butter. They make focaccia bread twice daily. Veal Parmesan, fettuccine Alfredo and chicken scallopini keep people satisfied. All dishes are made to order, with lightning efficiency but attention to detail.
"We have a heat lamp in the window, but I have not turned it on in five years," said Gault.
The food falls on the side of comfort over creativity. And this is just what Legends' customers want.
John and Peggy Weaver and their friend Kim Spinelli were enjoying a lunch when City Paper visited Legends last week. They praised the waitstaff as friendly and authentic and said consistency was why they love Legends.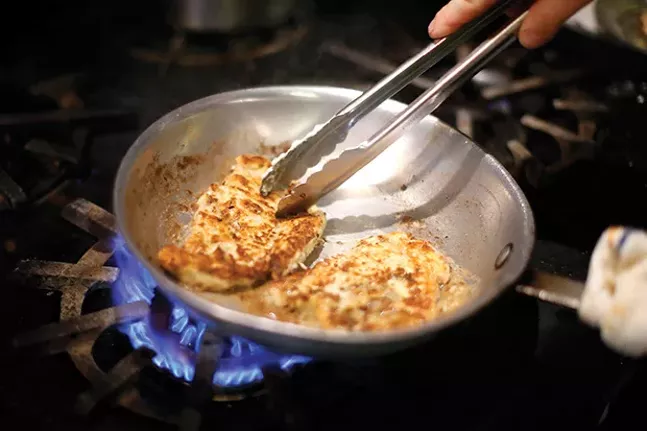 "We have been coming here for years and never had a bad meal," said Peggy Weaver.
"We need more restaurants like this," said Spinelli. "It's nothing flashy [and] not over the top expensive."
Peggy also lauded the free slice of fudge served after every meal. It's those touches that keep her coming back.
That commitment makes Legends work for customers, but tradition isn't the restaurant's only focus. Gault says 75 percent of Legends is about avoiding drastic changes. The other 25 percent is about shifting towards different strategies.
Gault says he regularly picks up produce at the North Side farmers market during the summer, something that wasn't even available a decade ago. Legends runs a food truck called Cool Beans that does what Gault calls "upscale carnival food." Legends has also partnered with Uber Eats to boost its take-out service.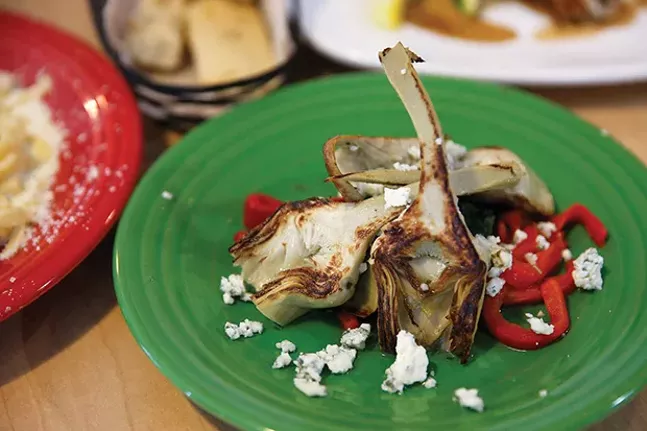 But focus on the old school has paid off for Legends. While trendier restaurants serve octopus tacos as a way to stand out, Legends distinguishes itself with Spots Romano, a pan-fried bass entree that is a holdover to an earlier era. Spots Romano remains one of Legends' most-popular dishes and customers are sometimes shocked a restaurant still serves it.
Gault does not see a competition between old and new. Restaurants like Legends prove there are scores of hungry customers looking for comfort and consistency when dining out. There is still a strong market for Legends' style of food and service, even if old school eateries don't always garner a lot of attention.