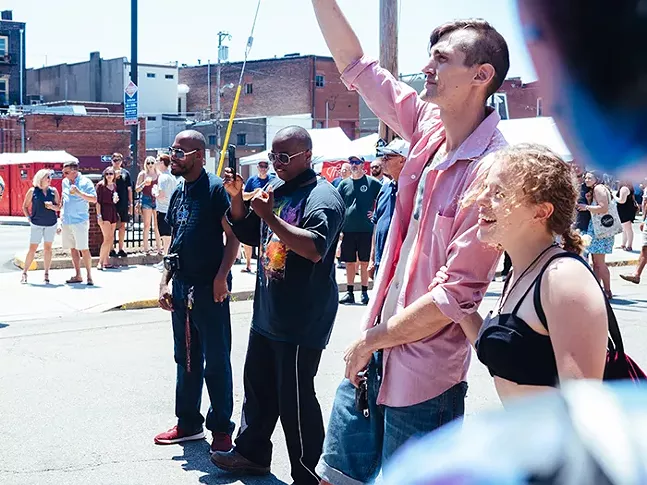 The house we almost purchased in Pittsburgh's Deutschtown neighborhood seven years ago now has a row of flowers out front, a cat in the window, and a small crowd entering the building next door, growing larger by the minute as the chords of a guitar begin to echo throughout the North Side block.
The house we eventually did purchase all those years ago is only a 15-minute walk away in the nearby Mexican War Streets, but as my boyfriend and I stood outside the Suismon Street house on an 85-degree sunny Saturday during this year's
Deutschtown Music Festival
, we couldn't help wonder what could have been. This neighborhood, always one of our favorites in the city, suddenly felt truly magical.
The annual music festival, this year in its seventh iteration, is oft talked about as a way to bring outsiders in to enjoy the neighborhood itself along with the music. At
Pittsburgh City Paper
, we even highlighted Deutschtown in a
photo essay
last year prior to the 2018 fest to help introduce Pittsburghers to that part of town. So imagine my surprise when I found myself, a North Sider who walks these streets nearly every week, discovering new favorites along with everyone else.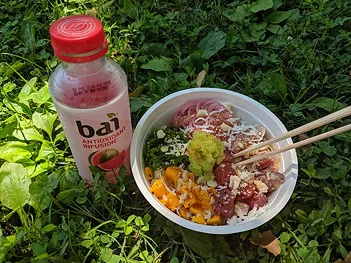 In a span of three hours, we saw nearly 10 bands, ate at four food trucks (I'm still thinking about the tuna poke bowl I got from
Just Roll'd Up
), and pursued artwork, while kids danced under bubbles in the park and people of all ages filled the neighborhood. This festival is laid back, inclusive, and lacking the pretentiousness that can sometimes be found at things of this nature. Over 350 bands performed at more than 35 stages throughout Deutschtown over the weekend, and nearly every street you walked down had some kind of entertainment to be found.
Some festivals are harder for less established bands and artists to get accepted to participate, but to me, the fact that this one gives so many musicians and artists an opportunity to perform in front of a crowd, something many might not have gotten the chance to do otherwise, is a blessing. There's a solid mix of experienced acts and beginners, allowing for more diversity and more surprises around every corner.
I discovered my new favorite local band,
Murder for Girls
, as the members belted out fun and gritty pop-punk tunes on stage with the city skyline as their backdrop. I was hypnotized by an experimental musician channeling Daniel Johnston as he sang beautiful, haunting songs into a dial-up telephone with a microphone full of reverb.
As we opened the door to enter the
Javor Croatian National Hall
, an East Street social club I'd long wanted to see the inside of because of the artwork of jovial people on the exterior of the building, a man passing by carrying a six-pack in each hand yelled out to me with a smile, "I was a member there for 20 years!" Soon after, I was sitting inside, under a ceiling full of paper lanterns, listening to the funky Afro-soul sounds of Brooklyn's
Gentleman Brawlers
.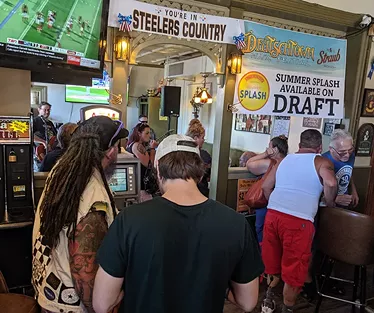 Across the road, just a short walk over the pedestrian bridge above 579 North, we found our new favorite bar,
Verdetto's
, where the drafts were cheap and a heavy rock cover band belted out songs from the '90s for bar regulars and music fans holding festival maps.
Back on East Ohio Street, bands played on the sidewalk outside
The Government Center
, Deutschtown's newest record store. On James Street, young bands killed it on the First National Bank Youth Stage. There was rock, there was soul, there was a little bit of something for everyone, whether you stayed for a whole set, or jumped from stage to stage. Everywhere you looked, there was something new to be seen. Everywhere you looked, people — including this proud North Sider who suddenly felt more at home than ever before — were smiling.