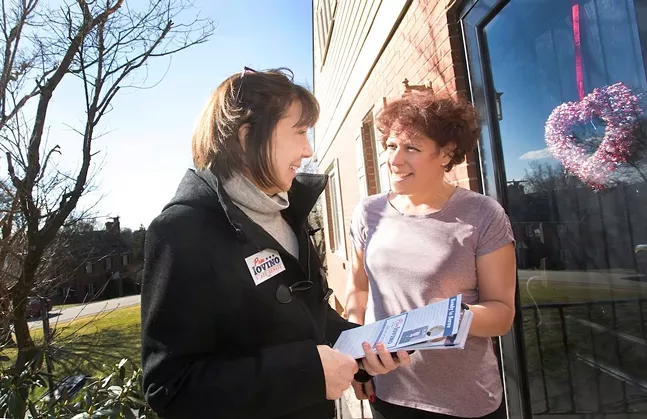 Democrat Pam Iovino was elected on April 2 during a special election for Pennsylvania's 37th state senate district. She flipped a seat in an area that President Donald Trump won by 6 points and defeated Republican D. Raja by a margin of 52-48 percent. District 37 includes Western and Southern Allegheny County, as well as Peters Township in Washington County. This was the second Pittsburgh-area state senate seat to
flip into Democratic control
since 2018.
But what led to the vote shift?
University of Pittsburgh election analyst
Lara Putnam
says it was a mix of
a strong
backing by
organized labor
and grassroots progressives. She says that combination has also proven effective in victories for politicians like U.S. Rep.
Conor Lamb
(D-Mount Lebanon), and could be a playbook for Democrats in suburban Western Pennsylvania moving forward.
"The key two pieces are about labor and the grassroots," says Putnam. "The people that are in labor households are the not the same as the grassroots that entered after
election
of Trump, and they haven't looked back since. Those networks were laid and they didn't skip a beat."
The
grassroots
shined in Mount Lebanon, the district's most liberal area. Iovino was able to build up large margins in the borough, and Democrats may have even exceeded their expectations here.
Lynne Hughes, a progressive grassroots organizer in Mount Lebanon, says that in the Howe precinct of Mount Lebanon, organizers were hoping for Iovino to secure 64 percent of the vote, but she exceeded that with 69 percent. Hughes also notes turnout there was about 40 percent, which is high for a special election.
"There was a disproportionate high turnout in Mount
Lebanon,
and high win proportions there," says Putnam. "Mount Lebanon getting high turnout was not surprising, but they still made it happen. Even better
than than
expectations."
Here is a comparison between 2019 and the last 3 races in this district. Iovino and Smith won by similar amounts, but look at the geographic spread. Mt. Lebanon really punched above its weight. pic.twitter.com/wMps6IfQDn

— Ben Forstate (@4st8) April 3, 2019
But it wasn't just racking up votes in the reliably Democratic Mount Lebanon that led to Iovino's victory, says Putnam. She says generating votes from labor union families throughout the district was also important. Turning out votes in middle-class, union-supporting households in Moon and Upper St. Clair was critical in stemming the tide of the conservative wave that supported Trump in 2016.
Take Bethel Park as an example. The borough supported Trump and former Republican state sen Guy Reschenthaler in 2016. For the special election, Iovino carried Bethel Park.
Putnam says towns near Allegheny-Washington county border have historically
supported Republicans
and did so in large numbers in 2016. But when given an option like Iovino, Democrats have made gains in these areas that help propel their candidates to victories.