When you walk into the House of Handsome Barbershop & Boutique in Dormont, don't expect to flop into a plastic chair and thumb through a stack of old, sticky GQs while SportsCenter drones on from the flat screen as you wait to get a haircut.
Instead, you walk into the parlor, where eleven gold chandeliers hang from a custom tin ceiling, above leather pin-tucked sofas and velvety smooth armchairs with gold hardware. Jazz and big band are piped through the speakers. While waiting, you might tap against the wall to open a secret door to access a private BYOB locker (most of which are already taken), and pour a scotch on the rocks. If not in the mood, there's Perrier on the house.
The vibe is like a 1920s hotel. There is hand-screened wallpaper, gold foil, glass tile, and white orchids under an octagonal coffered ceiling. You'll smell a blend of moody French Jasmine, the same fragrance notes in the in-house styling products — facial wash, moisturizer, pomade, unisex cologne — displayed on gold shelving.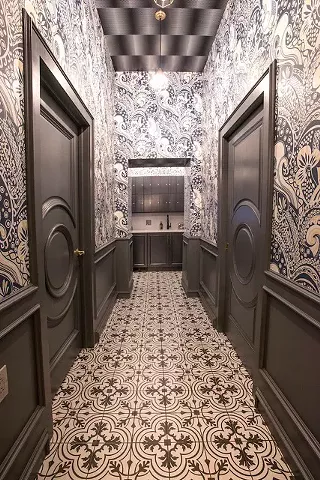 The goal is to get you settled into one of four black leather barber chairs in the cutting room for the full, 45-minute experience. Massage. Shampoo. Conditioner. Wax removal of hair from places grandpa forgot existed. "Anything less than 45 minutes is an injustice," says proprietor Michael B.
It took him three years to renovate on the space. Running an electric saw through walls and hauling out 26 tons of debris and 50,000 gun shells during demolition of the former gunsmith shop. He didn't let a single client see the transformation. Not the guy who flies in from Miami every two weeks for his haircut, or the childhood buddies who have been coming to see Michael B. since 1993, when he was a 12-year old-kid cutting hair with his dad's Gillette Mavericks on the front porch of his house.
His dad's the shoe-shine guy now. Came out of retirement, did an unofficial apprenticeship at the Bellagio in Vegas and learned how to excrete the natural oils from a deer bone by massaging it over your leather shoe that he charges eight bucks for. And if you've got a few minutes to spare, go for the 24-karat facial ($55) or just get a shave and have the brows groomed ($40).
Walk-ins are welcome, but you might wait a while without an appointment. And make sure you're over the age of 12. There are sharp instruments and hot setting tools and a child policy that respectfully asks that even the most dedicated family folks leave the terrors at home.