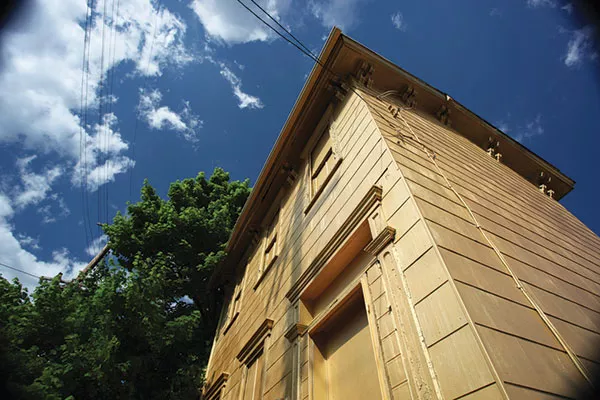 House of Gold's power lies in its simplicity. The art project consists of an uninhabited house on Swissvale Avenue in Wilkinsburg whose exterior was coated entirely in gold paint by artist and Wilkinsburg resident Dee Briggs.
The fresh coat was applied over two days, with the help of a small crew of friends and volunteers. Briggs said of the house, "It had patches; it was dirty and dingy. The reason behind the gold was to dematerialize the house while communicating value and beauty."
Visitors will see just how dematerialized it is. All of the doors and most of the windows are either boarded up or locked. No feature escapes the thick coat of paint. Photographs online reveal that the interior is filled with trash.
The only relief from the relentless luster is a graffiti url: www.house-of-gold.com. It's not just uninhabited; it is, by its metaphorical nature, uninhabitable.
Briggs is primarily a sculptor who works in architectural materials like steel and concrete. House of Gold is a massively ambitious project, and yet its spectacle can be captured in four words: a house, painted gold. The motivation was the undervaluing of human life Briggs says she saw in rougher neighborhoods.
"Walking around my neighborhood, I see young people aged 5 to 30, and they behave in a way that tells me they clearly don't value each other's lives," says Briggs. "But these kids are golden inside. ... It's about seeing the beauty in people before they're gone."
Appropriately enough, the house itself will not be around for long. The borough plans to demolish it as soon as this week.
The project's website details the rich cultural history of the building. It was built in 1875, then partially converted into a grocery store in the 1930s; multiple families and generations of Americans were born and raised there.
Monolithic and just a little bit garish, House of Gold is inner beauty made boldly external. It's not something you flock to. It's something that you stumble upon, that makes you stop, stare and wonder why you don't stop and stare more often.
"Houses like this are not just about the garbage strewn on the lawn," Briggs says. "There were lives in there."