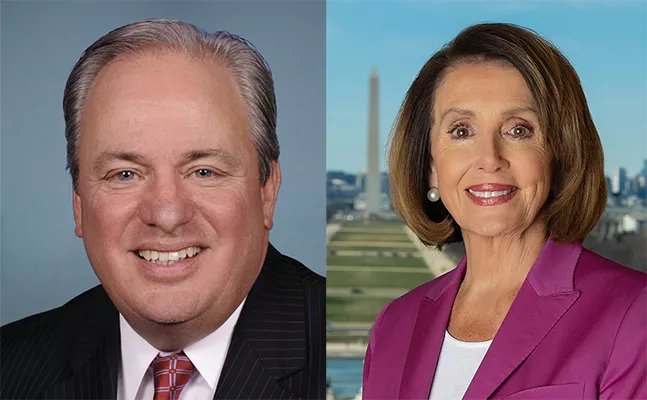 House Speaker Nancy Pelosi (D- Calif.) announced today plans to call for a formal impeachment inquiry of President Donald Trump.
This comes after the Trump administration blocked Congress from seeing a whistleblower complaint alleging Trump pressured Ukrainian officials to undermine Democratic presidential candidate and former Vice President
Joe Biden
.
BREAKING: Nancy Pelosi says the House will move forward with an official Trump impeachment inquiry https://t.co/U6Pf4OzkXw pic.twitter.com/TnQvOILkPP

— CBS News (@CBSNews) September 24, 2019
Trump has admitted to withholding funds from Ukraine but denies doing so as political leverage. The Trump administration plans to release the July 25 call transcript between Trump and Ukranian President Volodymyr Zelensky, which came one week after Trump made plans to hold around $400 million aid from the country.
According to
CNBC
, Pelosi said of starting impeachment proceedings earlier today, "That's why I've said [that] as soon as we have the facts, we're ready. Now we have the facts, we're ready — for later today."
In response, U.S. Rep. Mike Doyle (D-Forest Hills) renewed his call for an impeachment inquiry into Trump today.
The allegations in the whistleblower report about President Trump's calls with Ukraine are mind-boggling. I called for an impeachment inquiry a few months ago, and I'm glad that many of my colleagues have now joined me in pushing for this important action. https://t.co/u8gEAhGgyS pic.twitter.com/Nq6kdTIgSL

— Mike Doyle (@USRepMikeDoyle) September 24, 2019
"I believe that the recent allegations only add to the urgency of a full and immediate impeachment inquiry," Doyle said in his statement. "Congress must use all of the powers granted it by the Constitution to carry out its oversight responsibilities and get the facts."
Doyle is joined by around
180 House Democrats and one House independent
in supporting starting impeachment proceedings.
U.S. Rep. Conor Lamb (D-Mount Lebanon) asked the Trump Administration provide the
full whistleblower report to Congress by Thursday
. But when
Pittsburgh City Paper
asked Lamb's office if he has changed his mind on starting an impeachment inquiry into Trump, his office didn't provide a specific response to that question.
Today, Lamb tweeted that he still wants to see the full whistleblower complaints by Thursday. Trump's office has promised the release of the call transcript, but not the entire complaint. Lamb indicated he will have "more to say" after facts emerge in the coming days. Lamb remains the
only House Democrat in Pennsylvania
to indicate whether or not he supports impeachment proceedings.
As I said yesterday, we need to get the full text of the whistleblower complaint by Thursday, not just the transcript of one phone call.

It appears that we will learn more facts in the coming days, and I'll have more to say after that.

— Conor Lamb (@RepConorLamb) September 24, 2019
An impeachment inquiry will not necessarily result in Congress calling for impeachment since the House still has to vote on whether to proceed; then, the U.S. Senate would have to take up the issue. U.S. Senate Majority Leader Mitch McConnell (R-Kentucky) has indicated he doesn't support bringing impeachment proceedings to the Senate floor. However, proceedings in the House will allow a special counsel to open an investigation into the allegations and allow Congress to determine the legality of the actions taken.