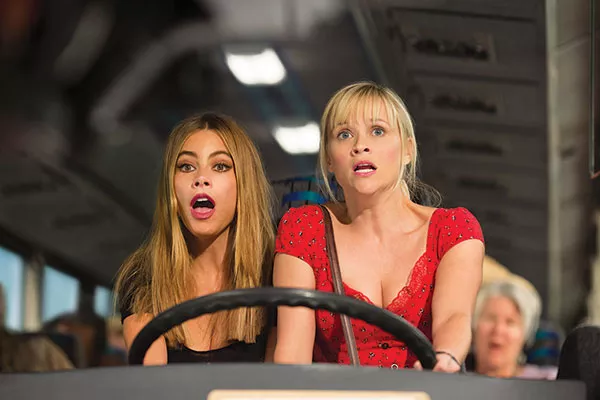 I sort of felt sorry for Reese Witherspoon and Sofia Vergara, shrieking and flailing about in the unfunny mismatched-buddy comedy Hot Pursuit. But these are a couple of pros, and this mess must have looked just as dumb on the page. Now you gotta own it, ladies, while we suffer through it.
Directed with little verve by Anne Fletcher, we get a by-the-book cop (Witherspoon), who's defined by not knowing what "calling shotgun" means, and her charge, a witness for a drug-cartel case (Vergara). Or, to put it another way: a humor-challenged woman repeatedly described as "looking like a boy" for wearing a uniform escorting an ay-yi-yi-ing hourglass-shaped plot device comprised of huge hair, skintight dress and teetering high heels.
In any case, the two wacky gals drive around Texas, exhibiting such high-larious hi-jinks as: driving badly; getting accidentally jacked up on 42 kilos of cocaine; making out for the benefit of some yokel; hijacking a bus full of old people; and crashing a tacky quinceanera and killing some people there. From the test-marketed jokes about granny panties, menstrual periods and impractical shoes, Hot Pursuit seems like a film designed in a lab for the laziest girls-night-out ever. It should come with recommended wine pairings — perhaps something in the $10 range with a pink label?