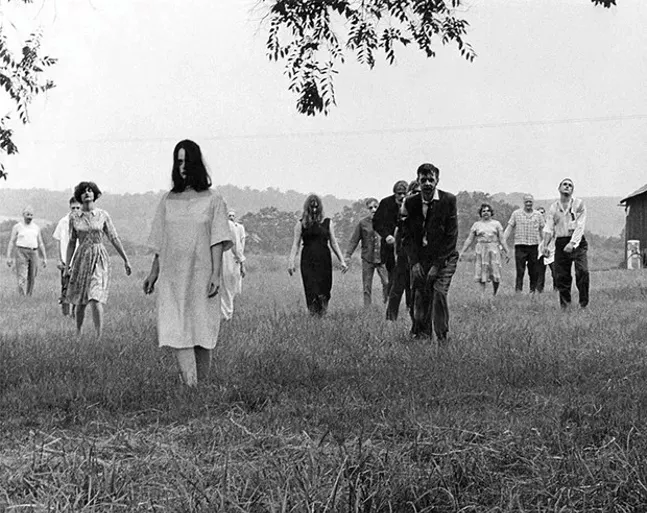 While most of the characters in his movies are the reanimated and diseased dead, a group of Pittsburghers wants to ensure George A. Romero's legacy stays alive and healthy — and the horror genre's recent revitalization is likely to be a big help.
Romero, a Pittsburgh-based filmmaker known for his socially conscious horror movies that popularized zombies, passed away in July 2017. Romero Lives!, a coalition of about 30 Pittsburgh-based individuals and organizations, formed shortly after his death with the intention of celebrating Romero's impact on the horror industry as well as his ties to Pittsburgh — the setting of many of his movies.
Romero Lives! has been hosting screenings, lectures, and other events surrounding Romero's work and the horror genre in general. The coalition kicked off its activities in Oct. 2018 with a 50th anniversary celebration of the world premiere of his breakout work Night of the Living Dead, which follows seven people trapped in a western Pennsylvania farmhouse besieged by "living dead" monsters.
The coalition has more plans for the coming year, including two events this month — a screening of The Devil's Doorway followed by a Q&A with director Aislinn Clarke, on Feb. 13 and a panel of African-American artists discussing their work and Romero's legacy regarding race and horror on Feb. 28.



Adam Lowenstein, a film professor at the University of Pittsburgh, says now is a perfect time for Pittsburgh to commemorate Romero, not only because of the director's recent passing but because of the healthy state of the horror genre in general.
"It's a time when horror matters on the radars of people to whom it might not always matter," Lowenstein says.
The oft-maligned horror industry has proven to be incredibly fruitful and successful in the past few years, spawning breakouts like The Babadook and The Witch. Jordan Peele's Get Out was nominated in four categories at the 2017 Oscars, including Best Original Screenplay, which it won. Historically, the academy has rarely acknowledged horror films outside of technical categories.
Horror has managed to break into the mainstream by injecting them with social awareness. Lowenstein says the main goal of Romero Lives! is emphasizing how the director's works examine similarly serious subjects, such as war and race.
"When we don't know and don't recognize or respect each other, that's where real horror happens and Romero's films know this," he says. "Part of sort of the horror of [Night of the Living Dead] is that the real threat is not outside but inside in terms of what's going on between the people in the house and their inability to trust each other."
Encouraging discussion about Romero's life, legacy, and social commentary in Pittsburgh could benefit locals, whether they are interested in horror or not. Romero's works have a devoted fanbase around the globe who would travel to the city to learn more about the director's impact, Lowenstein added.
"Put that sort of mission more front and center and [Romero Lives!] will be bringing people to Pittsburgh in ways that's very exciting to contemplate, ways that the Andy Warhol Museum and August Wilson Center have already accomplished," he says.