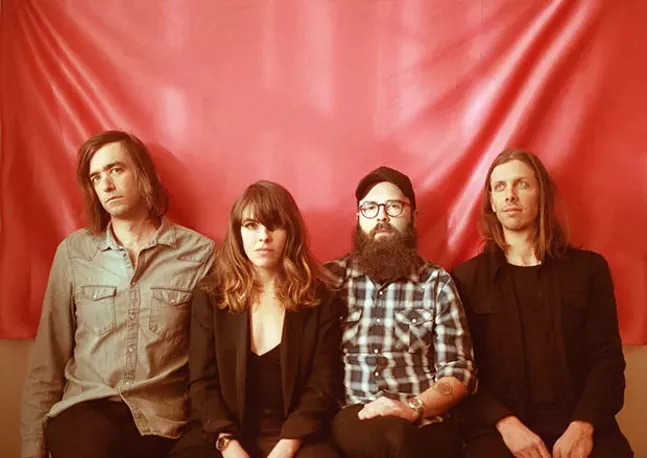 Hop Along's music has the ability to freeze time.
The first time you hear vocalist and guitarist Frances Quinlan's distinct voice over the subtle, smart-moving guitar parts, your breath may get caught in your throat. With careful ingredients, Hop Along captures the sublime, confusing, warm and existential in a way that evades easy description.
Its latest release, Bark Your Head Off, Dog is no exception. Its nine eclectic-but-cohesive songs range from bouncy to tender and contemplative.
"I'm really proud of the record, it's the proudest I've ever been of something I've been a part of," says Quinlan. "Now the anxiety is attached to best representing it live."
While writing the record, band members exercised restraint and focused on starting the songwriting process with an idea of feeling for each song. As a result, Hop Along left space for strings and piano on tracks such as "Not Abel," "Prior Things" and "One That Suits Me."
"Knowing each other so well made us better able and equipped to communicate needs and the moods of those songs, and the concept of mood came up earlier than it ever has in the process before," says Quinlan.
"Once you have that [mood], you can shape the song into something, and it's easier to shape than a jumble of verses and choruses."
Hop Along has long been known for its prolific, literary lyrics. They come from journal entries and writings that Quinlan works on over time, the words pulled from various entries over a longer span of time — or sometimes from just a few days in a row. And although her songs are personal to an extent, Quinlan happily leaves them open-ended for the listener.
"I've been really excited to have conversations about people's interpretations of songs," says Quinlan. "I'm really excited about how people are interpreting this album in general."
As Hop Along embarks on its headlining tour in support of Bark Your Head Off, Dog, Quinlan admits the hardest part is figuring out what new songs to cut to leave space for old favorites. One of those old favorites, "Tibetan Pop Stars," is a fervent singalong. It still affects Quinlan even after years of performing it.
"That song blows my mind on this tour," Quinlan explains. "It's one thing to be in smaller spaces and having people singing those words, but in larger spaces and headlining, hearing people sing [along] is humbling."